I really loved Tawny Bee's wrap up of her Iron Crafting in 2013, so of course I had to do my own.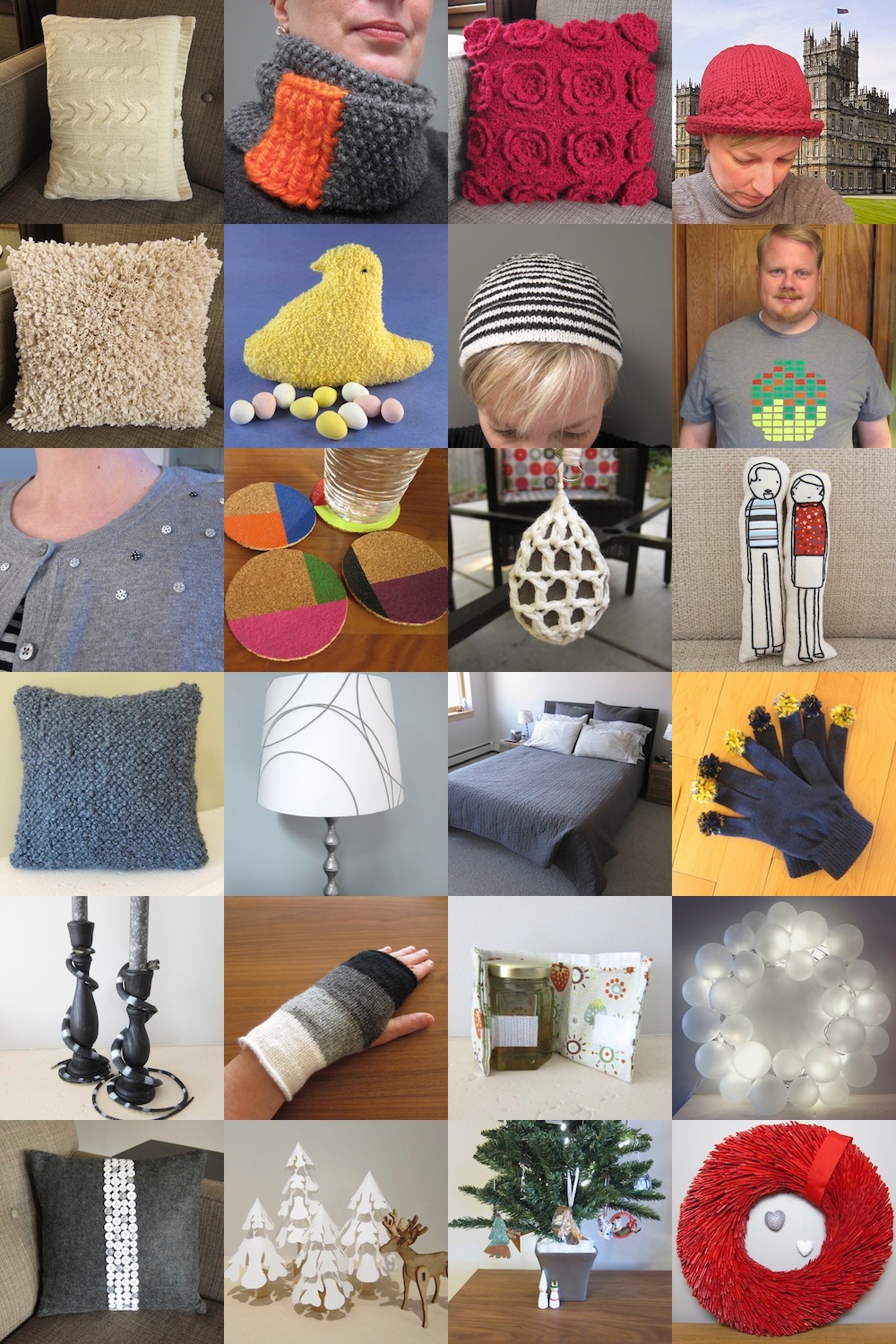 Challenge 1 – Sweater Pillow  Challenge 2 – Orange Slice Cowl  Challenge 3 – Crocheted Flower Pillow Challenge 4 – Braided Brimmed Hat
Challenge 5 – Shaggy T-Shirt Pillow  Challenge 6 – Peep Bath Buddy  Challenge 7 – Breton Stripe Cap  Challenge 8 – Lego DJ T-Shirt
Challenge 9 – Button Embellished Sweater  Challenge 10 – Color Blocked Coasters  Challenge 12 – Crocheted Stone Tablecloth Weight  Challenge 13 – Little Us Pillow Dolls
Challenge 14 – Bulky French Knot Pillow  Challenge 15 – Bedside Lamp Redo  Challenge 17 – Resizing a Quilt  Challenge 18 – Spirit Fingers
Challenge 19 – Snake Candleholders  Challenge 20 – Ombré Handwarmers  Challenge 21 – Traveling Tea and Honey Set Challenge 22 – Lit Frosted Ball Wreath
Challenge 23 – Button Pillow  Challenge 24 – Paper Snowflake Trees  Challenge 25 – Potted Christmas Tree  Challenge 26 – Hanging Hearts Wreath
Some thoughts on the last year…
1. I did 24 of the 26 challenges, missing one while I was driving around Ireland and another in the middle of moving house. Not too bad though I wish I had done all 26.
2. I made a lot of throw pillows last year. How do I still need new ones for my new place?
3. My favorite project is the Little Me Pillow Dolls. They came out much better than I expected. It was closely followed by the Lit Frosted Ball Wreath which I almost gave up on.
4. The readers favorite project was the Shaggy T-Shirt Pillow, also closely followed but the Lit Ball Wreath.
5. For some unknown reason the Paper Snowflake Trees have been viewed almost 6,000 times on Flickr and made Explore. (Not bad for a picture Craftgawker turned down.)
6. I'm proud that I kept going during moving, selling a house (twice), breaking an ankle and family medical emergencies. Not all these projects are my best, but at least I tried to do something.
7. Finally, I'm proud of keeping this challenge going for three years now and heading into a fourth. I love all the amazing crafters it has introduced me to.
If you are not reading this post in a feed reader or at http://justcraftyenough.com then the site you are reading is illegally publishing copyrighted material. Contact us at jcraftyenough AT gmail DOT COM. All patterns, text and photographs in this post are the original creations & property of the author unless otherwise noted.
© 2005 – 2014 Kathy Lewinski & Susan Cornish