The year is drawing to a close and it is time to look at where we've been and where we are going in 2015. This has been a year of challenges for me and I am quite proud that I have finished all of them.
First of all, I challenged myself to design and knit a pair of mittens each month of the year. I wasn't sure I could do it, but I did and really enjoyed it! I've written more about it here and have links to all the mittens, so I won't go over that all again.


Then there is Iron Craft, our bi-weekly craft challenge. For the first time in the four years we've hosted it, I've actually done all twenty-six challenges (at least I think it was the first time). Sometimes Iron Craft is a struggle, but after looking at all the projects I did for it, I have to say some of my favorites of the year were in response to those challenges.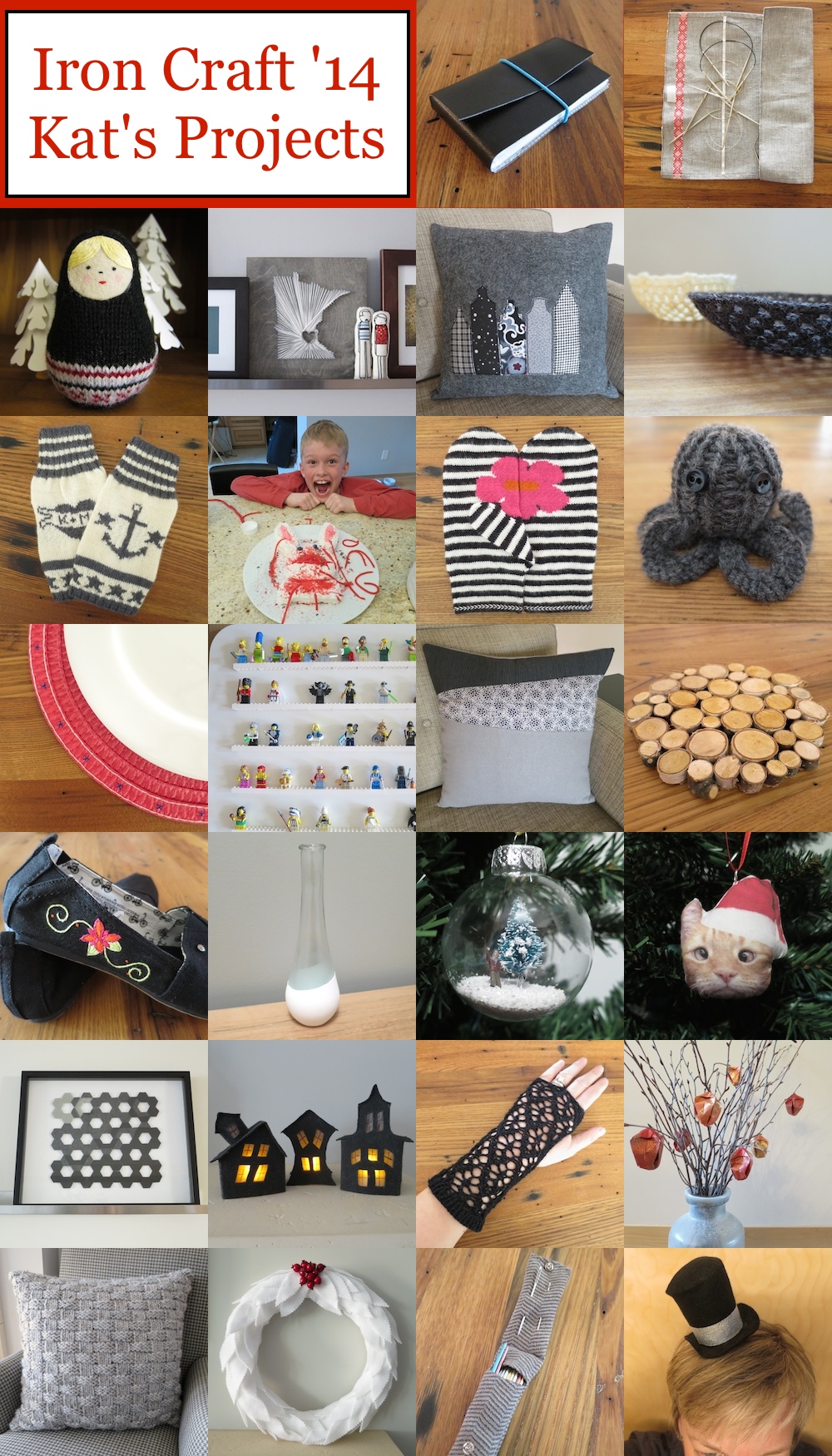 1. No Sew "Leather" Card Wallet 2. Circular Knitting Needle Organizer
3. Knit Matryoshka Doll 4. Minnesota Love String Art 5. Appliquéd Houses Throw Pillow 6. Crocheted Bowls
7. Hello Sailor Handwarmers 8. Bunny Cakes 9. Pop Art Mittens 10. Knit Beach Finds
11. Embroidered Woven Placemats 12. Lego Minifig Wall Display 13. Wonky Stripes Pillow 14. Birch Slice Trivet
15. Embroidered Shoes 16. Etched and Dipped Paint Vase 17. Finding the Tree Ornament 18. Stuffed Cat Ornament
19. Felt Hexagon Wall Art 20. Creepy House Luminaries 21. Spider Lady Handwarmers 22. Paper Chinese Lanterns
23. Knit Basket Weave Pillow 24. Felt Leaf Wreath 25. Sock Knitting Needle Case 26. Top Hat Fascinator
For the third year in a row I do my Advent Calendar Project, creating twenty-four Christmas ornaments in the twenty-four weeks leading up until December.


You can see all this year's ornaments here. I'm already thinking about next year's set.
Finally, I dove back into the 365 photography project after taking a few years off from doing it. I missed it more than I thought and am planning on continuing next year.

As for what 2015 holds…
I have loved the mitten project so much and plan on designing more mittens throughout the year. Maybe not a pair a month, but at least a few. But my big goal for knitting next year is to make a sweater that fits me right and that I'll actually wear. I have too many half finished sweaters that I gave up on because of fit, this year I will make one that works!
2015 will be the fifth year of Iron Craft. I'll be shooting to do all twenty-six challenges again. (Plus, I have the extra challenge of coming up with the challenges themes as well!)
As I mentioned above, I'll be doing Project 365 and the Advent Calendar Project again. I also plan on entering mittens in the Minnesota State Fair again, but I'd also like to perhaps enter some other categories next year. I need to make sure to look through the competition book earlier!
Finally, Susi and I have been scheming about how to deal with all the unfinished projects that litter our craft rooms. We'll have more about that later.
So, what about you? Have you have a productive crafting year? What do you have planned for 2015?
If you are not reading this post in a feed reader or at http://justcraftyenough.com then the site you are reading is illegally publishing copyrighted material. Contact us at jcraftyenough AT gmail DOT COM. All patterns, text and photographs in this post are the original creations & property of the author unless otherwise noted.
© 2005 – 2014 Kathy Lewinski & Susan Cornish