At this time of year, just like everyone else, I like to look back at what I did throughout the year. For me that is a lot of crafts, especially knitting! Let's take a look at my 2016 in crafts.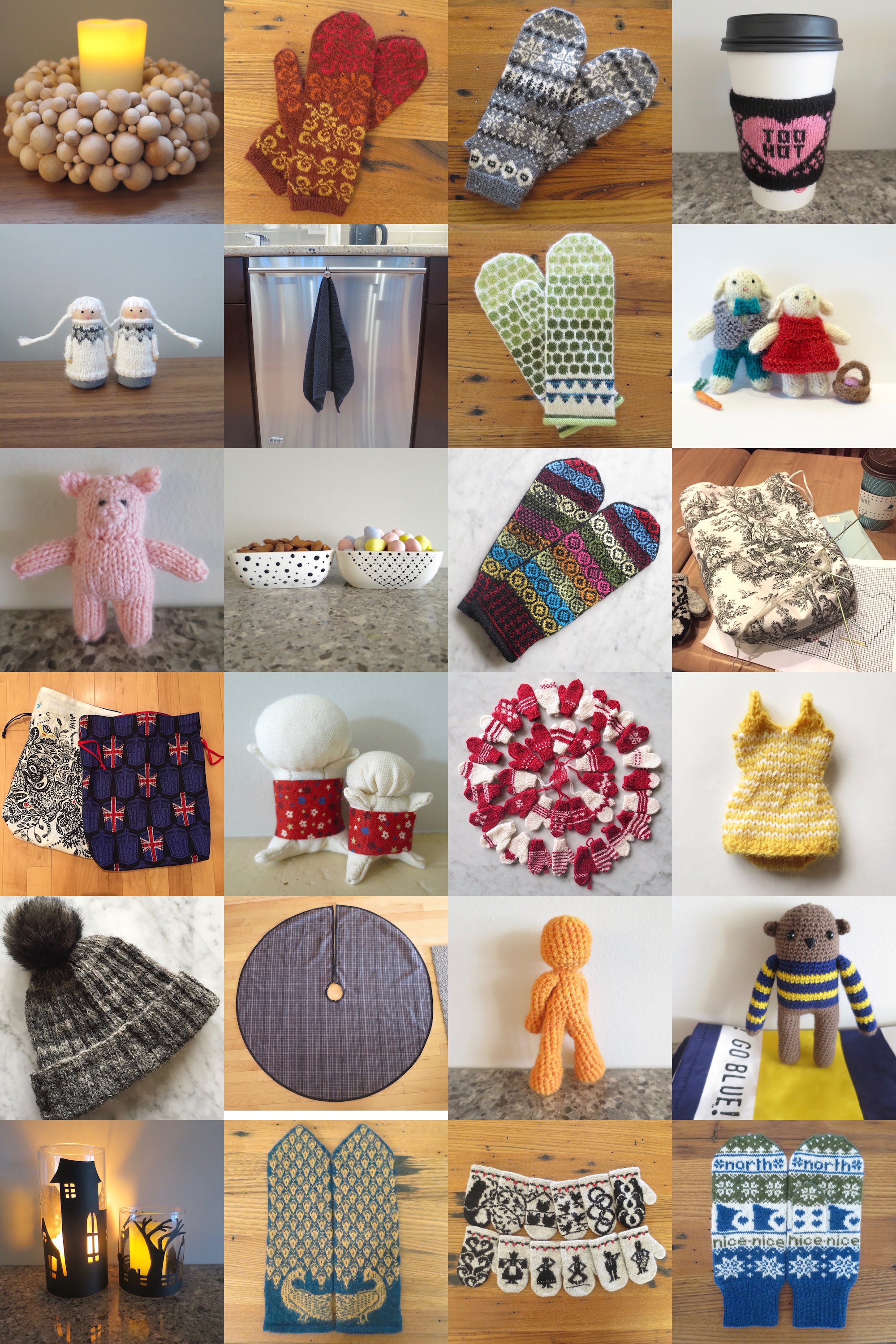 Starting from the top left…
1. Wooden Ball Candleholder – I love how this one turned out!
2. Birdwatching Mittens – For a friend in the UK.
3. Winter Snows Mittens – – Such a fun KAL!
4. Too Hot Coffee Sleeve
5. Little Sweater Girls – My tiny version of the Icelandic sweater.
6. Hang Dishtowel – No the most exciting project, but one we use everyday.
7. Cornwall Spring Mittens – Bunting!
8. Teeny Tiny Bunny Couple – One of my favorite projects of the year. I love making tiny things.
9. Tiny Knit Pig – An adaptation of the bunnies
10. Sharpie Painted Dishes
11. Yarn Ends Mittens – Using up all that leftover Palette for a Minnesota Knitters' Guild Challenge.
12. Doctor Who Toile – Adding to the toile was so fun (and then I turned it into a project bag.)
13. More Drawstring Project Bags – These are in constant use.
14. Sarubobo – These make great pincushions.
15. Mini Mittens – I made about 40 of these this year to give everyone at my Project 365 house party in the UK.
16. Tiny,Knit Retro Swimsuit – A test for a bigger project you may see this spring.
17. Souvenir Hat – Using a pompom I bought on a trip to Germany and the handspun I bought in England.
18. Plaid Christmas Tree Skir
19. Arigurumi – My first attempt at crochet arigurumi
20. Go Blue Bear – My second attempt
21. Papercut Halloween Candle Covers
22. Pride and Prejudice Mittens – One of this year's fair entries.
23. 12 Days of Christmas Mitten Garland – This KAL took half the year, but it was such fun.
24. MN Nice Mittens – A patten I design for a Minnesota Knitters' Guild KAL next month.
I also took two ribbons at the MN State Fair this year, hosted two knit alongs and a design along, and had a project publish in the French book, Réinventer Lego.
In 2017, I want to continue to design more knitting patterns and I have at least two more knit alongs ready to go. I hope to have a pattern in at least one book and plan to try getting accepted to more things. I want to go back and clean up some of my older patterns to get them to a better standard. I also really want to knit myself a sweater, I say this every year, but this year I am really going to try! What are your craft goals for 2017?
If you are not reading this post in a feed reader or at http://justcraftyenough.com then the site you are reading is illegally publishing copyrighted material. Contact us at jcraftyenough AT gmail DOT COM. All patterns, text and photographs in this post are the original creations & property of the author unless otherwise noted.
© 2005 – 2016 Kathy Lewinski & Susan Cornish