(You can read all about my application to the show in this post. Then about working with Ken in this post. And about the first day of filming in this post.)
The second day my call time was not early, maybe it was 9:30(?). They were sending us to the L'Oreal Hair Salon in shifts. A van came to get us and we traveled across town. The salon was in a big office building, off of a big glass atrium. The rain was POURING down and it struck me how lucky we were not to be going to work on a day like today. It is so hard to commute in a big city, in the rain, in work clothes, and work shoes and look well turned out and presentable when you arrive.  What would have happened to our double decker bus Grand Entrance if it had been pouring yesterday?! Who knows!
We went up to the salon, and were greeted by a host of staff from both Project Runway AND from L'Oreal. This was L'Oreal's episode, after all.
I will say, for the record, that I came to the table that day apprehensive and jangled. The day before, I had had my color consultation with Johnny Lavoy and (as you saw) he wanted to make me a red head. I know that many brave woman would have just said, "Go for it! What EVER they want to do, just do it! " Rationally I would agree with this. But. On this day, away from anything even resembling a comfort zone, I could not do it. I felt like I was caught in a really uncomfortable place. I genuinely love this show. I am so grateful that I had this opportunity. With all my heart, I didn't want to get set up for an on-camera lie. I didn't want to look at my hair, lie and say, "Oh. Uhm, yes I like it." I knew I could not do it. I would have to say, "Thank you so much for your time. I am grateful."  I can tell you from here, there would have been tears.
This is the color that was suggested: (as I remember it.)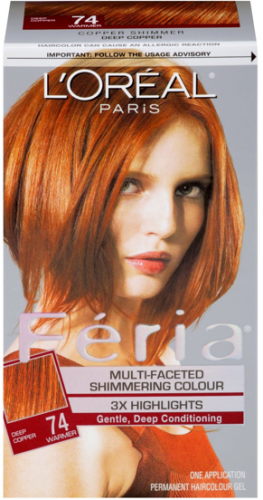 It is a beautiful rich color, on that model, but it is not a color for me. For whatever reason, on that day, I could not even fathom going there, even for 2 days, and being able to pull that off. I just have such a respect for the show, I could not dream of a big fake-fest and it really stressed me out.
To the GREAT credit of everyone at the studio, they revised and I got the color that you saw. I felt like a million bucks. You can call that "red" if you want, but it is just a rich brown to me. I can honestly say that I loved my hair.

I give HIGH marks to Johnny Lavoy, his team, and L'Oreal for their treatment of all the super fans. CLEARLY, I did not have the most dramatic chop, but I feel like my transformation was very flattering and very successful. It's a big change for me. At the same time, it was something I could live with.
The salon that we went to looked very much like any other hair salon. There is a waiting area, shampoo sinks, and cutting chairs. Except, this salon was actually the L'Oreal color lab. Absolutely NO pictures were allowed. At all. The clients that come in work with L'Oreal on an ongoing basis there, so that the company has a detailed picture of how their products perform on real women over years of time. I found that fascinating! I would have loved to have a chat with one of those women. There were some of them in the salon when I arrived, but by the time I had heard all of this information, the whole place was just "super fans".
We went back to Parson's for a fitting. I wondered, how were our designers were coming along. We had missed the critiques. I have to say, I was a tiny bit bummed about this. One aspect of the show I was looking forward to the VERY MOST was hearing Tim Gunn's unedited critiques. And then comparing them to what happens on the runway. I have often said that if he does not respond well, then the look is not likely to do well on the runway. Although, the inverse is not universally true. I really wanted to know if that was editing or if the critiques were that laser focused. They must have done that with Tim on purpose so that they could just give feedback without saying, "Now, let's keep her shape in mind here…"
My dress was inside out when I walked in, so I was looking at seam allowances. But when I looked at it, the layers were waving back and forth in a dynamic play. I knew I was looking at raw edges, but there were other raw edges that we have seen, so I was not 100% sure. Looking back, do you think he should have left it inside out?


Everyone certainly had work to do. We left our designers and wished them all luck.
We were taken en mass to have manicures and pedicures. We descended onto a nail salon that was small in the front and then opened up in the back. They had enough technicians in lab coats to cover us all at once. All of my new friends were there, sitting with me, all with their new hair. I think we were pinching ourselves.
One of the best parts of the nail salon was that I had a pedicure first in one of the big "throne" chairs. Then separately, I had a manicure. None of this "Egyptian painting" style contortion to have your nails on one side while your feet were facing forward. Nice. The other thing that happened is our "handler" came to each one of us and said, "What would you like from Starbucks?" For me, this one sentence ranked almost as high as a driver meeting me at the airport with my name on a card. I am not kidding. For those of you who have a big ol' job and an assistant who gets you something, this may be small potatoes, but for me, just that gesture alone was a fantastic treat.
The young lady that asked me that question was Jacquline. She was lovely. Her official title was "PA" (Production Assistant) and she was assigned to the "models". So for our episode, we were referred to as "The Super Fans" and she was assigned to US. Everywhere that we went, Jacquline went. Every time we waited, Jacquline waited too. She was our first point of contact for every question we had, from "what time is our van again?" to "who is the guest judge?" to "when do we meet Heidi?". Man, she must have really earned her money working with US!!! Thank you Jacquline. It was a pleasure to meet you. And thanks for the Latte.
The next day was RUNWAY DAY. How do you even comprehend that when you wake up the next day, you are going to walk on the runway? On Project Runway? I am not sure if I slept. I faked it.
If you are not reading this post in a feed reader or at http://justcraftyenough.com then the site you are reading is illegally publishing copyrighted material. Contact us at justcraftyenough AT yahoo DOT COM. All patterns, text and photographs in this post are the original creations & property of the author unless otherwise noted.
© 2005 – 2013 Kathy Lewinski & Susan Cornish