Welcome to season 13 of Project Runway and a new season of Project Project Runway! If you want to join in the fun this season get all the details here. Let's jump right in…
Challenge – Muse on the Street
On the show the designers were sent to a park where they had to pick someone to be their muse and convince them to have a complete makeover. For our purposes, we are asking you to pick a muse from your life, it can be a friend, family member or even yourself, anyone you think could use a fashion makeover. Then design a new look for them.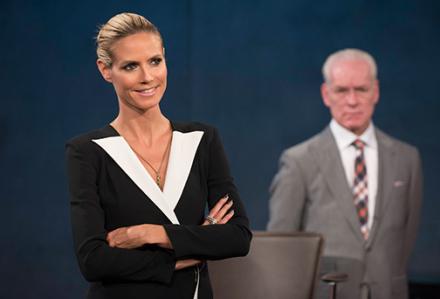 Time Limit – 24 hours
Budget – $20
Accessories – Choose your accessories from the Aldo Accessory Wall.
Runway Day – Runway day is Thursday, October 2nd.
Just a reminder, only in-progress photos should be posted to the Flickr group before Runway Day. Save the big reveal for next Thursday. Please tag your photos with PPR13 and ProjectProjectRunway.
Ok, let's talk about this episode. Warning spoilers ahead….
Kathy's take:
Let's talk about the top- Korina can sew a coat. I thought the skirt looked a little odd and perhaps opened too much and the top did not fit well at all. The jacket won it for her.
Emily's look was very dramatic. I don't know if it is something most people would wear off the runway, but I do think her model really liked it. Those ruffles at the sleeves would drive me nuts. Yeah for Zac standing up for it and saying it looked like fashion beyond what you can find in the store.
Kini's looked like something a country singer would wear. It didn't feel like the style we've seen from him this season at all. Sure, it was all sewn well, but was this fashion? I liked the dress better without the jacket, but then again I might have liked the jacket better with a different dress. I'm surprised the judges liked it as much as they did.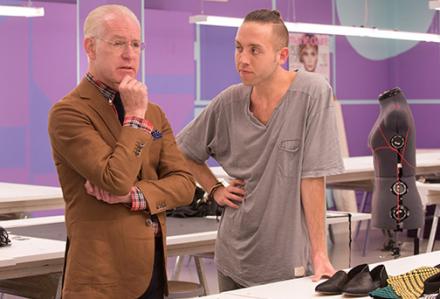 And the bottom – Alexander's top fit horribly, the whole look was like a high school home ec project. Double stitch tape! It was just sad. I hated his fabric choices and agreed with Tim the initial look was bad, bad, bad. I agree he was the one to leave this week. It was too bad to stay.
Amanda's look was too short, in my opinion, and the vest did nothing for it. I did like the fabric, but think she didn't do the best she could have with it. Piecing the stripes was a good idea, she just didn't pull it off.
I don't get Char's look. I'm not a fan of the suit with shorts (no one is wearing that to a rock concert). Plus I don't feel like the top fit well. As for Zippergate, yeah you can't let a real woman model go out with her side open, but I love how she blamed her model. If the zipper was sewn in correctly it wouldn't have come off like that. This was a two day challenge.
Sean's was pretty, but eh. He loves that fringe. Safe, yawn.
Susi's Take
I have to say, the hair on the back of my neck stood up this week. It did take me back. I think it would be incredibly hard to find a model, in the park, in 30 min. Not because people didn't want to do it, but really how many of you could scratch ALL of your plans for the next 3 days on a 20 min notice?
And can I just say, only one girl actually got her hair cut. I think the L'Oreal hair studio piece was missing. It was only called "the Mary Kay Make-over"
Korina sent a biker jacket down the runway. Again. And an ill fitting dress. And she won. Here is the thing, she is just so mean spirited on the show that I cannot see past it. I have to wrap my head around the fact that this is not "Project Nice" it is Project Runway. You can have an opinion about someone's work without being ugly about it. I will chalk some of it up to her tender years on the planet. And then I will move on.
I liked Kini's look more, but I think that is because I think I would want to wear that dress. Man, his model was just as cute as she could be.
CHar is all done. Micheal Kors would have said "we have a taste level issue here". Nina kept saying "but she is a preschool teacher" and I just did not get her point. So what? Today, she is a model.
My next "tip" for future designers. Listen up. There will be a real model challenge. I suggest you start sketching now. And, no matter what the client says, you will be more successful if you do something fancy or high end. Go "opera" or "red carpet". If you want to do first date, go to the symphony on that date. If you are doing "happily married" then make the look about a black tie corporate function. Drape something in a nice fabric. Avoid skimming looks. Okay, go go, start sketching. When Tim says "you have 30 minutes to sketch" what he means is "you have 30 to remember what you have been sketching for the 3 months before we started taping." Reach into that mental arsenal.
See you on the runway.
If you are not reading this post in a feed reader or at http://justcraftyenough.com then the site you are reading is illegally publishing copyrighted material. Contact us at jcraftyenough AT gmail DOT COM. All patterns, text and photographs in this post are the original creations & property of the author unless otherwise noted.
© 2005 – 2014 Kathy Lewinski & Susan Cornish