A little way back I started a dress for my daughter, and now that I have finished it, I wanted to share it with you. The dress began when we were following Project Runway and they did looks for girls inspired by the American Girl line. I teach sewing at a middle school, and the girls watch Project Runway and we are still joking about the snaps Sandya ran all the way to the bum of a "big girl's" jump suit. I digress.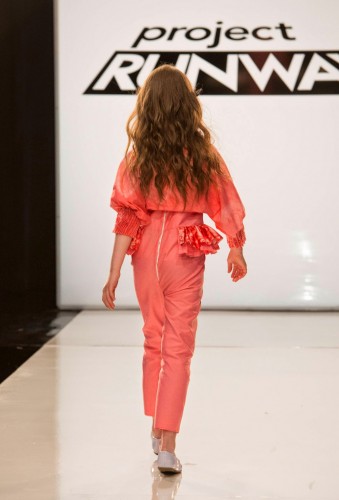 The designers did a look for real girls, and since I live with my model I thought I would do a real life look for her.
Because I was making a life size look, and because I live in a house where we have real laundry, I did not finish my look in the allotted time. But I did finish it. And not too much past the deadline. Then, the best critique ever from the most important judge… The dress was worn to school!!! Yeah! I win!


(Swoon.)
I want to share some of the behind the scenes construction.


I started with the ruffle idea, but needed to infuse something into it. There needed to be a detail that brought it up out of "just a plain dress". So I decided to line the top section with the orange contrast. I cut the orange top 3/4 inch bigger than the white section of the top. And that was just enough. When I sewed them together, I turned the orange over to the front, and top stitched it down so that there would be a ribbon of contrast showing.


I made some little bike shorts to go under the dress, because she likes to swing on monkey bars a lot. : )


The shorts don't show up under the dress right now. But I was really proud of how they came out.


I thought the look was successful. And the fact that she wore it for more than a modeling session is the best vote I could ever get! What a sweet victory.
Happy sewing.
If you are not reading this post in a feed reader or at http://justcraftyenough.com then the site you are reading is illegally publishing copyrighted material. Contact us at jcraftyenough AT gmail DOT COM. All patterns, text and photographs in this post are the original creations & property of the author unless otherwise noted.
© 2005 – 2014 Kathy Lewinski & Susan Cornish