Welcome to season 13 of Project Runway and a new season of Project Project Runway! If you want to join in the fun this season get all the details here. Let's jump right in…
Challenge – Past, Present and Future
Use an inspiration from your past to create a look for the pages of Marie Claire in 2034. You can be inspired by a memory, a feeling, by a place…it is completely up to you. The judges want to see what the future looks like as filtered through your design esthetic.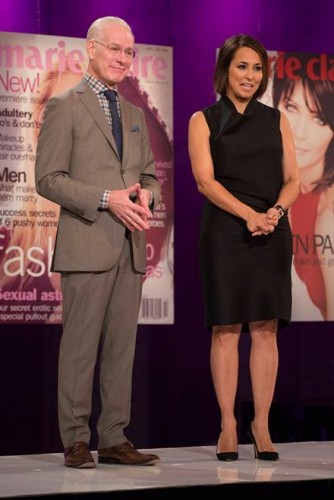 Time Limit – You have 12 hours.
Budget – You have a $20 budget.
Accessories – Choose your accessories from the Aldo Accessory Wall.
Runway Day – Runway day is Thursday, August 14th.
Just a reminder only in-progress photos should be posted to the Flickr group before Runway Day. Save the big reveal for next Thursday. Please tag your photos with PPR13 and ProjectProjectRunway. Do not make Tim give you this look!


Ok, let's talk about this episode…(If you haven't seen it yet there might be spoilers ahead!)
This is a challenge we've seen before, design for the future. The whole based on something in your past thing was a little weak and really didn't seem to mean much in the judging. That said, I think we saw some good work from some of the designers this week.
I agreed with the judges putting Emily and Kristine's look on top. I mean you heard gasps from the judges when Emily's look came out and she took that hoodie off. I think Nina fighting against it was the only thing that kept it from winning. Well, that and the fact the Sandhya has obviously preformed some sort of spell on the judges. Seriously! I mean her look was the most costumy, sci-fi looking thing on that runway. You could hear the judges trying to justify their choice, "it's not the most flattering dress" but "it's fantasy," "it's too long" but "it's editorial." Whatever, I truly feel there is a producer pushed story happening here.
Anyway, like I said I thought there was a lot of good fashion on the runway. I think I would been happy to see Kini (who I think lived up to his possibilities this week), Samantha or Mitchell (yes, Mitchell) in the top three. I think Mitchell did a really interesting look.
Let's talk about the bottom. Let's face it they did Angela a favor sending her home. Tim pegged it when he said she was a good designer, but this was not the environment for her. Her outfit wasn't great, but it wasn't the travesty they made it out to be. I kept hearing the skirt was too short, but then Heidi commented she loved how short Kristine's was. Alexander's look was pretty awful, he made a terrible fabric choice. I think Sean had a good concept in another bad fabric, though the hat was sad. (Oh, and judges, I'm a woman who loves to wear a turtleneck.) I do think Hernan should have been in the bottom. He is lucky they wanted Angela out because he send another awful, tasteless dress down the runway.
Ok, this was longer than I expected, I guess I had more thought on this episode than I knew!
If you are not reading this post in a feed reader or at http://justcraftyenough.com then the site you are reading is illegally publishing copyrighted material. Contact us at jcraftyenough AT gmail DOT COM. All patterns, text and photographs in this post are the original creations & property of the author unless otherwise noted.
© 2005 – 2014 Kathy Lewinski & Susan Cornish