We are cranking away as we steam towards Halloween. Just to refresh your memory, we are making the Schuyler Sisters from Hamilton, and a Lizzy Bennet Zombie. (among other things.) You can see some of what we started in this post.
Lets look at the Schuyler sister's dress. "We" did the bodices out of muslin first and tried them on (with no sleeves). They fit well, so we proceeded to make the bodice as the instructions stated, boning and all. The girls dove in head first and produced the linings complete with whale bone channels. They are SO impressive. Next the linings got sewn into the beautiful outsides. And then we approached the sleeves.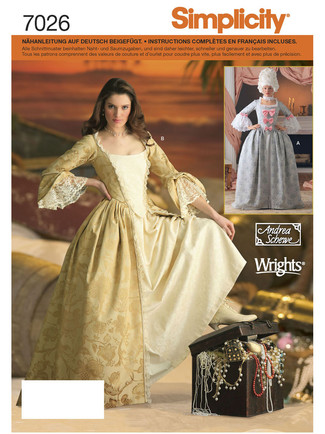 The sleeve in the pattern is not even to the elbow (before the bell ruffle) and it is mostly tight from the shoulder down. It is made by joining two very strange pieces together. Just to make sure we could even see our way into the sleeve, we started with the linings. Here is "Eliza"

And here is "Peggy"

Their questions were polite:  "Ms. Susi, are you sure this is right?"
Two issues needed to be tackled right off the bat. First, they are both just MILES too big. Second, we named them "camel" sleeves because they both had these strange bumps crafted into them. It is our belief that this was to make room for the bend of an elbow, but that is assuming the sleeve is so tight that a girl could not bend her arm without that extra room. And clearly that is not the case.
We ended up tapering the sleeve for Eliza and adding the lace trim to the bottom. For Peggy, we drafted our own long-sleeve pattern and just made it work. (Yep, we "Tim-Gunned" it!)

Have a look here though. This beauty has done her own bodice here, and it fits her like a bespoke dress. If you look at the sleeve, it looks like we actually got it from the wrong pattern envelope. At one point, I thought we actually had it upside down, and that camel part was the cap of the shoulder. But no. The markings in the pieces were "right".
We are ploughing ahead so fast. "tick tock" Halloween is coming!!!
If you are not reading this post in a feed reader or at http://justcraftyenough.com then the site you are reading is illegally publishing copyrighted material. Contact us at jcraftyenough AT gmail DOT COM. All patterns, text and photographs in this post are the original creations & property of the author unless otherwise noted.
© 2005 – 2016 Kathy Lewinski & Susan Cornish