I have to say this is one of my favorite Iron Craft challenges, which is why you are seeing it again this year, it is the Dollar Store challenge. Create something using mainly supplies from the dollar (euro or pound) store. (Ok, we know not everyone has dollar store close to them, so things that are cost a dollar from other stores are ok too. Stores like Target and Jo-Ann have dollar sections in them.) We aren't going to ask to see your receipts, but you know what is true to the challenge in your area.
It is always fun to see what can be made from things that aren't typically craft supplies.
Here are some projects from past challenges…


Pincushions made from flower pots, gardening gloves and a towel.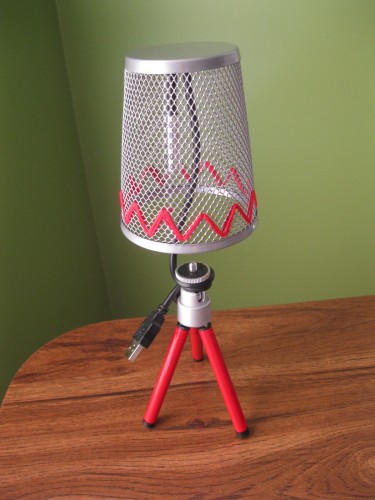 A desk lamp made from a mini camera tripod, a computer light and a pencil cup.


A twine dispenser made from a jar.
Reveal day is Tuesday, June 3rd. Please only share in progress photos before that date. Tag photos with IC1411 and IronCraft.
If you are not reading this post in a feed reader or at http://justcraftyenough.com then the site you are reading is illegally publishing copyrighted material. Contact us at jcraftyenough AT gmail DOT COM. All patterns, text and photographs in this post are the original creations & property of the author unless otherwise noted.
© 2005 – 2014 Kathy Lewinski & Susan Cornish