I have some new brushes in the house. I love them so much that I wanted to share them with you. I am really excited about them. (Is this super dorky? Maybe.)
First is the Evriholder Cutlery Cleaner

This tool is quick and easy to use. I drizzle a little dish soap over the mouth of this animal, and then bob the knife blades up and down in the bristles. It is super safe, and it works well on sticky or gooey messes, like honey, or cream cheese, or the dreaded peanut butter.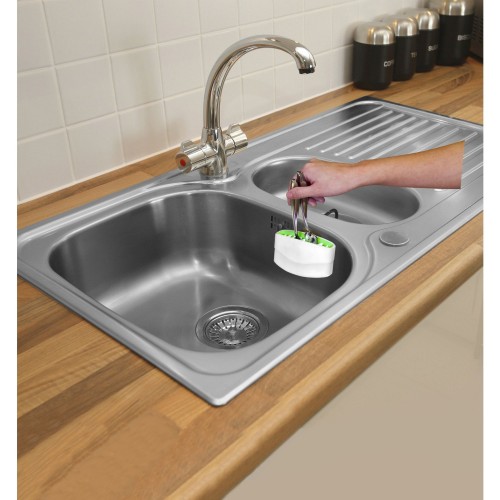 This picture is from the manufacturer. Because I have a black sink. (Oh, and also because there are a few things on my counter.) Mine is on the front of the sink, so it is handy, but also, it does not show from across the room.
Next are the Munchkin Brushes.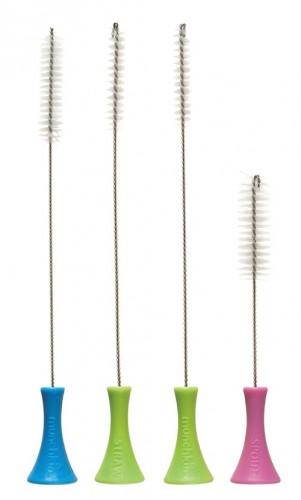 I bought my first set to get into the plastic straws on my daughter's drinking cups. And since then I have gone on to get another set. One set stays in the kitchen, but the other brushes have gone to do chores around the house. I have cleaned the lint out of my sewing machine. I have used it to get the little tiny places in the dash board of the car cleared out. And I have used it to get the tricky spot between the gears and blades of the can opener. Anywhere that gunk can build up, they are ready to scrub is away.
There you have it.
Happy Spring Cleaning to you.
(We were not sponsored in any way to write these reviews.)
If you are not reading this post in a feed reader or at http://justcraftyenough.com then the site you are reading is illegally publishing copyrighted material. Contact us at jcraftyenough AT gmail DOT COM. All patterns, text and photographs in this post are the original creations & property of the author unless otherwise noted.
© 2005 – 2014 Kathy Lewinski & Susan Cornish