Once you have learned to knit, and you know you love it, you should really consider a needle set. You will be buying a new needle or two for every project for the rest of your days knitting, and at $5 – $25 per pair/set of needles, you are going to be in deep over the course of a life of knitting. Here, I will review three of the major sets on the market.
One of the earliest interchangeable needle set that I had was a Denise set


They were good. It was so HANDY to have everything in one little case.  There were a couple of  issues. Sometimes the chord would come unclicked in the middle of a project. And the joins were not the smoothest in the world on some of the needles. ($59.99)
Recently, I had the chance to road test two other sets of interchangeable needles.
First, I tried the Knit Picks Harmony Wood Circular Set.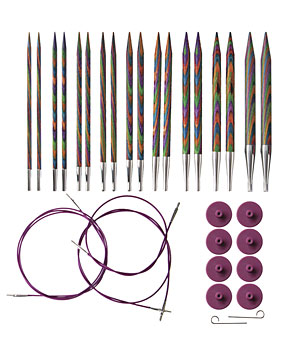 These needles are very beautiful. They are brightly colored, striped wood. The needles themselves are well made.  But while they are very pretty, it makes them a little bit harder to knit with. especially if you are using a color that is close to one of the colors in the wood. This would be even harder if you were a beginner, and needed to look at your stitches a lot. Or, if you were doing lace and you needed to look down at what you were doing a lot.  The joins are perfect in this set. They are absolutely smooth and undetectable. This set runs $84.99, and offers 4-11 with the option of buying bigger tips separately.On these needles, the tips are surprisingly sharp. That is good or bad depending on what you like and what you are knitting, but they are sharp to be sure.
The other set that I tried out was the nickle plated interchangeable set also from Knit Picks.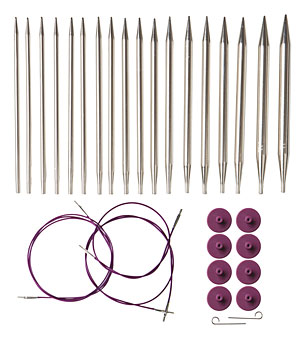 Swish! These are light and beautiful. The joins are smooth. And the tips are not quite as sharp (so that was a little easier for me). This set is 69.99. The needles are 4 – 11, with the option to add bigger ones.
I personally love wooden needles. So I would consider getting the Sun Struck needle set. Blonde wood be easier for me. But the question for me is going to be how sharp are these needles? And I LOVE the nickle plated as well. So maybe it is a toss up.
Do you have a set of needles? What kind are they? Do you like them?
If you are not reading this post in a feed reader or at http://justcraftyenough.com then the site you are reading is illegally publishing copyrighted material. Contact us at justcraftyenough AT yahoo DOT COM. All patterns, text and photographs in this post are the original creations & property of the author unless otherwise noted.
© 2005 – 2013 Kathy Lewinski & Susan Cornish