Welcome to season 12 of Project Runway and a new season of Project Project Runway! If you want to join in the fun this season get all the details here. Let's jump right in…
Challenge – Butterfly Effect
This is the avant-garde challenge, so create a look that is experimental, daring and cutting edge. On top of that, your look should be inspired by butterflies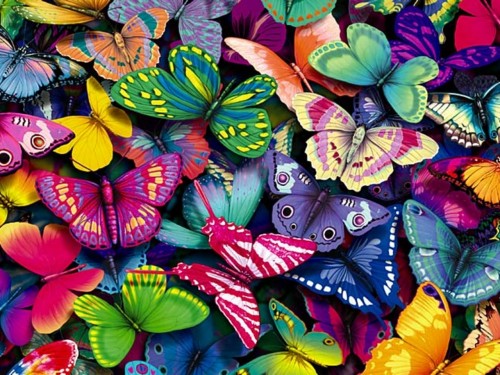 Plus, plus, plus! The designers had to do two looks. The second look was a reworking of one of the losing looks. We aren't going to make this required for PPR, but you can do it if you wish. Since we don't have any losing looks, you can redo one of your looks from the past challenges.
Budget – $50
Time Limit – 24 hours if you do one look, 36 if you do two.
Accessories – Choose your other accessories from the Belk accessory wall.
Runway Day – Runway day is Thursday, October 10th.
Just a reminder only in-progress photos should be posted to the Flickr group before Runway Day. Save the big reveal for next Thursday. Please tag your photos with PPR12 and ProjectProjectRunway.
So, let's talk about the episode. Spoilers ahead! It kind of felt like two episodes in one with the two very different challenges, but ok.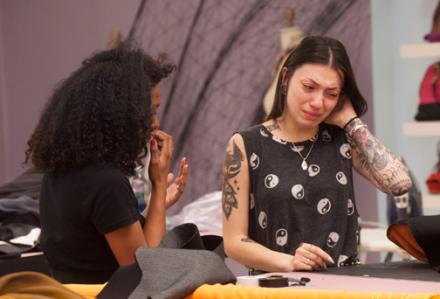 Am I the only one who wanted to slap Helen for losing it at her critique again. Even Tim seems like he has had it with her. Her avant-garde look was not avant-garde (I mean haven't we seen her do that before?) I also don't understand why the judges liked her rework so much, I straight skirt and cropped top? Yawn.
I don't get Alexandria's style. That whole torn look she does looks very craft fair to me. And a faux hawk with plaid and leather pants? C'mon.


Dom certainly did the best remake and a really interesting avant-garde look. That girl knows how to use patterns. I think she was robbed by not winning this week, though she is through so that is all that matters.
Bradon's avant-garde look was interesting and I'm betting it looked good in person. To tell you the truth, I can't remember his remade look. Oh, it was the placemats wasn't it? Well, he picked something hard to redo. I have to say, I thought Bradon had this season in the bag early on, but lately I had felt like he lost it a bit. It'll be interesting to see what he does with time.
Finally, Justin…I've never been that impressed by what he does. I think he likes to try these techniques, but the idea is better than the result. Often the results looks a little like a craft project. And can you say saggy boobs?


Anyway, everyone gets to create a collection. I knew they were going to do something like this again. So, who do you think deserves to be in the final three with Dom and Bradon, Alexandria, Helen or Justin?
(photos in this post are from Lifetime.com)
If you are not reading this post in a feed reader or at http://justcraftyenough.com then the site you are reading is illegally publishing copyrighted material. Contact us at justcraftyenough AT yahoo DOT COM. All patterns, text and photographs in this post are the original creations & property of the author unless otherwise noted.
© 2005 – 2013 Kathy Lewinski & Susan Cornish