I have watched every season of Project Runway. I have participated from home for 5 seasons. I have participated in person for one episode. Here is what I can tell you.
How to be successful on Project Runway.
From the minute you get picked, you will be busy.
1. Start sketching. You can use a note book with the figures already in there, but start sketching. Don't come on the show and let me hear you say, "Sketching is not part of my process." You HAVE to be able to sell your ideas in more than one way. Everyone has decided that is with a sketch and by answering the questions ,"Who is this woman and where is she going?"
2. Go to a store or a school that has Brother Machines. Sit there until you learn how to thread and sew on all of them. Learn how to work the serger model AND the conventional model.
3.a. Watch EVERY episode of PR ever taped. Write down every challenge and think through what you would have done.It is not likely that they will repeat the challenge exactly, but they have done similar things.
3.b. There will be a challenge where you need to design your own print. Try this on your own at home. AND, the fabric comes on what looks like cotton. So think through some looks that will be successful in cotton. This is going to be a tough challenge. It has taken out many a worthy designer.
4.a. Take all of the catalogs out of your bathroom. Make a dress. Go to your recycling bin, make a dress out of what is there. Chew gum. Make a dress out of the gum and the wrapper. You think I'm kidding? No. They have been to the dump and made looks from there.

Laura, season 3, in the recycling plant.
This is no joke. If I hear one more designer come on and say "these are not the materials I work with" "these do not speak to my aesthetic…" I will flip!
4.b. When you are standing in the big box hardware store for the unusual materials challenge, do not pick the drop cloths and the plastic sheeting and make a dress. The judges will say that you did not embrace the challenge. And you will risk going home. Worse than that, you will risk losing Tim's respect. When Sue started working with a black table cloth for one challenge, Tim came in for the critique and lost it. (Really, I have not seen Tim get that angry on camera before.) He looked at her and said threateningly "Have you ever SEEN Project Runway before!?!?!?" It was ugly.
5. a. Learn how to piece, and make patterns. Learn how to use muslin. Learn how to WORK in muslin and make the mistakes in muslin.
5.b Go to the local theater, and visit the costume department. There have been some gowns that were constructed to STAND UP and BE NOTICED. You should have some knowledge of "BIG" construction before you go.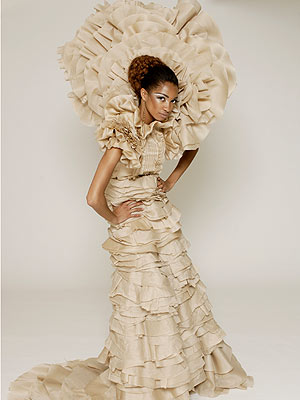 Chris March and Christian Siriano Collaboration.
6. This is a big giant job interview. Win or lose, millions of viewers will see your designs. AND YOU. Behave like you are on the worlds longest job interview. Because you are.
7. Design some looks for size 12 – 18. The average woman in America is 5'2″ and weighs 150. When someone that does not look like a model comes in front of you, embrace the opportunity. That is your market. The more you sneer, the worse you look. (see #6) Figure out what would be flattering on a woman with a big bust, or a big rear, or a little tummy. Think about the model and what shape would flatter her figure. It could be the difference between the top and the bottom.
8. Get your social media all ironed out before you go. Set up a twitter, FB and web site. People will be looking. And talking. You want to SHINE when they find you.
Future designers: you are welcome.
What do you fans say? Did I miss anything?
If you are not reading this post in a feed reader or at http://justcraftyenough.com then the site you are reading is illegally publishing copyrighted material. Contact us at justcraftyenough AT yahoo DOT COM. All patterns, text and photographs in this post are the original creations & property of the author unless otherwise noted.
© 2005 – 2013 Kathy Lewinski & Susan Cornish