Back in June, I saw a call on Face Book that Project Runway was looking for super fans.
Kathy and I have been doing Project Project Runway for 5 seasons. So who would know more about PR than either of us? Other than being ON THE SHOW, no one. Maybe you could have "Tim" tattooed on your haunches. But outside of that, there could be NO bigger fans. So I felt like I HAD to take a SHOT at this.
They were asking for a 2 minute video. Did I even want to make a video? How does one make a video? Do I need to call someone, and have them come help with this?
We were in the process of moving. (We still are! They taped a whole season of Project Runway faster than we could move! ) And there were boxes everywhere. No. I mean, in every room on every square inch there were boxes.
I looked down at my shirt, and approved it. I picked up the Flip, and set it up in the stair way on a mini tripod. I turned the camera on myself and pushed "record". It took about 4 takes before I hit the point of diminishing returns. Then I set up the Barbie runway, and had a GRAND time remembering the challenges and the looks. Then I filmed the "models" while I described them.
The whole time, my kid was watching this process. I wondered how long should I spend on this project and not be "interacting" with her? She was trying so hard to "help" me. You know, like pointing, and talking.
I took one stab at editing my own video. I opened i-movie and watched the tutorial. I edited my material and threw in some pictures of the finale party,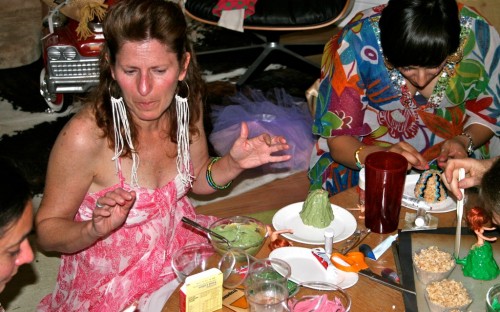 and meeting Christopher.

I got it down to two minutes. And then I stopped.
I waited, and decided to show it to my husband, to see how far off the mark I was. To my surprise and delight, he was impressed! He said I had captured my enthusiasm. (!!!) And that was it. I called it done.
In the afternoon, my kid picked up the camera, put in on the stairs, turned it on and recorded her own submission. She mimicked my words, but used her own voice and talked about "Mama". And then she took the camera upstairs and reviewed the Barbies and their looks. She copied my gestures and my mannerisms. And, my enthusiasm. There is no more humbling or more magnifying mirror than one's own child. I was BLOWN AWAY by what I saw.
And then, I was proud. I was proud that I had done something brave (filming) in front of my kid. My girl. She didn't hear the tape in my head "Oh my word – look at my stomach!" Or "What on earth is my hair doing?" She didn't even hear the curse words that may have slipped out (silently) when I flubbed my words.  She heard me talking, enthusiastically, about a craft project that I have been doing since just after she was born.
That is the Mom I want to be! I want to be someone who has hobbies and interests. I want to be someone that will show other people her work enthusiastically. I want to be the woman that can tape herself without being so self conscious that the whole process shuts down.
Lesson #1 from the Project Runway experience came before I even GOT THERE. It was "Be Brave Enough!" I surprised myself with my bravery. And then, my kid surprised me! Bravo! Already.
If you are not reading this post in a feed reader or at http://justcraftyenough.com then the site you are reading is illegally publishing copyrighted material. Contact us at justcraftyenough AT yahoo DOT COM. All patterns, text and photographs in this post are the original creations & property of the author unless otherwise noted.
© 2005 – 2013 Kathy Lewinski & Susan Cornish