Welcome to season 12 of Project Runway and a new season of Project Project Runway! If you want to join in the fun this season get all the details here. Let's jump right in…
Challenge – Let's Do Brunch
Design an outfit for the modern, Southern woman (the Belk customer). She dresses vibrantly, expressively and with bright colors. She knows how to use accessories. You can design a day or evening look.
Budget – $20 – $25
Time Limit – 12 hours
Accessories – Choose your other accessories from the Belk accessory wall.
Runway Day – Runway day is Thursday, September 19th.
Just a reminder only in-progress photos should be posted to the Flickr group before Runway Day. Save the big reveal for next Thursday. Please tag your photos with PPR9 and ProjectProjectRunway.
Ok, time to talk about the challenge, if you haven't seen the episode there may be spoilers ahead….
I watched this episode with my mom, from Memphis TN, and we were both like what the heck is the modern, Southern woman?! Yes, I have heard that women down South dress up a little more than we Northerners do, but still it is a bit vague. All and all, I did like Bradon's dress, it was really a cute take on the classic shirt dress. Personally, I loved Helen's look. Lace is so in right now and I thought the large scale of her's was cute.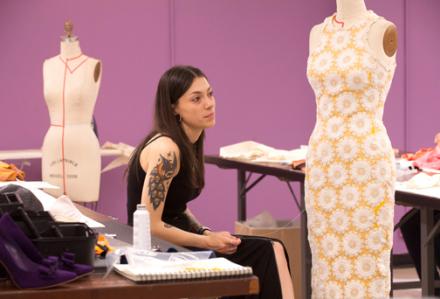 Let's talk about the people on the bottom. I think the judges were maybe a little harder on Jeremy than they needed to be. I could totally see all my mom's neighbors wearing that look. Ok, maybe it did skew a little older. And I don't know what happened to Dom, her original sketch was really cute, why did she leave off the print. Now Ken, I am so over Ken. His whole eye-rolling self just needs to get over it! So, they give the losers an hour to fix their looks. Yeah, Jeremy's was boring, but Ken's looked like a Vegas cocktail waitress who cut her own dress short (without hemming it!) to get bigger tips. I don't think it is quite fair that Dom get the prize as well for her second chance look.
ANYWAY…the exciting news is really next week's challenge…did you see the preview for the Super Fan challenge? Did you see Susi's smiling face? We'll post the preview as soon as it's available online. You can read about how Susi ended up on the episode here.
UPDATE: Here is the preview with Susi in it! Oh no, is her designer who I think it is?!

If you are not reading this post in a feed reader or at http://justcraftyenough.com then the site you are reading is illegally publishing copyrighted material. Contact us at justcraftyenough AT yahoo DOT COM. All patterns, text and photographs in this post are the original creations & property of the author unless otherwise noted.
© 2005 – 2013 Kathy Lewinski & Susan Cornish