Welcome to season 12 of Project Runway and a new season of Project Project Runway! If you want to join in the fun this season get all the details here. Let's jump right in…
Challenge – Having a Field Day
Create performance wear that is fashionable for Heidi's New Balance line. Don't make Nina say this about your look,

Budget – $5
Time Limit – 11 hours
Accessories – Choose your other accessories from the Belk accessory wall.
Runway Day – Runway day is Thursday, September 12th.
Just a reminder only in-progress photos should be posted to the Flickr group before Runway Day. Save the big reveal for next Thursday. Please tag your photos with PPR8 and ProjectProjectRunway.
Ok, so let's talk about this episode. Warning, if you haven't watched yet there are spoilers ahead…
Ugh, the workout wear challenge, not my favorite. For all their talk of something fashion forward there was nothing on that runway that I don't feel like I could find in an Athleta catalog. Still it was fun to have Michael Kors back.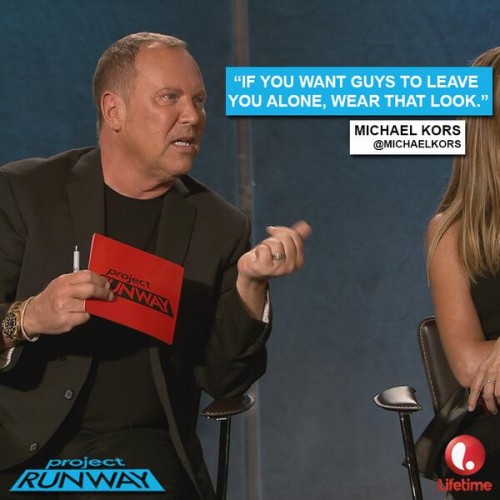 I do think Karen's sad little sweatsuit deserved to lose. I know she wasn't use to sewing stretch fabrics, but I don't think I can remember one of her other looks standing out at all. The judges certainly went gaga for Helen's jacket. I think Kate's look was a much better put together outfit, but Helen's was the most "different" item.
Can we discuss Ken for a moment? Man, is that guy wound tight. This is not the first time he has flipped out and attacked someone on the spur of the moment. I'm not sure if there is more that has been edited out, but he seems turn to cursing and threatening pretty fast. Being around someone like that in a high stress environment like Project Runway would certainly scare me.
What did you all think?
If you are not reading this post in a feed reader or at http://justcraftyenough.com then the site you are reading is illegally publishing copyrighted material. Contact us at justcraftyenough AT yahoo DOT COM. All patterns, text and photographs in this post are the original creations & property of the author unless otherwise noted.
© 2005 – 2013 Kathy Lewinski & Susan Cornish