Welcome to season 12 of Project Runway and a new season of Project Project Runway! If you want to join in the fun this season get all the details here. Let's jump right in…
Challenge – Next Generation
This is the make your own textile design challenge. Oh yeah, and use a "next generation innovator" as the muse for your fabric and design (though they are not your model or client). I was hoping Lifetime would link to all the innovators on their site, but they don't. So, you can use one of the innovators from the show as your muse or you can pick your own. It can be anyone from a chef to someone creating a new technology to someone running a charity.


Use whatever you want to create your own patterned fabric, paint, markers, dye, or even run it through your printer.
Budget – $10
Time Limit – 12 hours
Accessories – Choose your other accessories from the Belk accessory wall.
Runway Day – Runway day is Thursday, October 3rd.
Just a reminder only in-progress photos should be posted to the Flickr group before Runway Day. Save the big reveal for next Thursday. Please tag your photos with PPR11 and ProjectProjectRunway.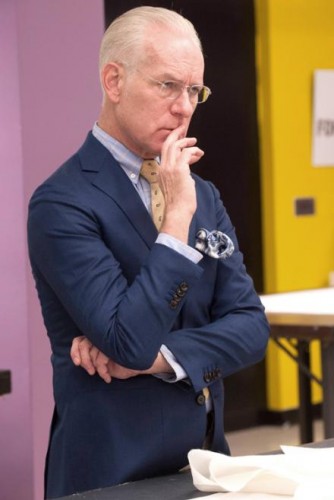 If you haven't seen this week's episode yet, warning there are spoilers ahead…
So, the whole be inspired by an innovator thing was a little lame. At least, they gave the innovators more time to tell about themselves and what they do than they did the superfans.
I always find these design your own textile challenges are tough, because the fabrics just don't look that high end. Really it sort of looks like they are designing with quilting fabric. I mean sure, they told Justin his print would have looked pretty on a gauzy fabric, but I don't think that was a choice he had.
As for the finished designs, I'm surprised Alexandria was safe. I thought her design looked unfinished and unattractive. Dom's was definitely the best use of the pattern and I can see why she won. Bradon's dress was interesting, but the jacket didn't thrill me in the print. The double elimination wasn't much of a surprise since Heidi kept hinting at it. What was surprising was judge's pet Kate getting eliminated. Sure her dress was ridiculously bad, (What woman would want those things sticking out of her skirt?) but they've loved everything else she's done this season. I personally didn't think Alexander's look was THAT bad. It had an interesting shape and I thought the white against the brown was quite graphic.
Finally, is anyone else sick of Helen's lack of confidence? I know she is young, but honey you'll never get anywhere in fashion if a simple print, one you designed, paralyzes you.
(photos in this post are from Lifetime.com)
If you are not reading this post in a feed reader or at http://justcraftyenough.com then the site you are reading is illegally publishing copyrighted material. Contact us at justcraftyenough AT yahoo DOT COM. All patterns, text and photographs in this post are the original creations & property of the author unless otherwise noted.
© 2005 – 2013 Kathy Lewinski & Susan Cornish