It has been a crazy week for me – Superfan Susi. I have to say Thank You to ALL of you. It has been fun sharing this experience with you. And this is, after all, where this whole thing started.
This week the challenge was the Super Fan Challenge and, in fact, we specified that it was ME. I am really honored. I thought I should go ahead and do the challenge too. In season 3, they did a challenge where they needed to design something for themselves, so this could have been real.
I really wish I had been designed something that was larger than life, something completely off the charts. So I went BIG for my own design.

I used pattern. I used a silky flowing material. And I had to throw green in there, just because. I believe that green could be used well.


I did not shop at as store anything close to a Mood. But I still found something that worked, on both a financial and a time budget.
I have been analyzing the looks that I feel are successful, and often times, it is the details (Imagine that!?) plus the combination of more than one different fabric. So in this look, I incorporated two fabrics the same weight. The pattern, and then, from underneath, there is a black chiffon trim layer. I was happy with this combination. I feel like it adds another dimension and provides a little bit of a surprise.
The back is dramatic. It has lots of layers, but it is still light. There is great movement.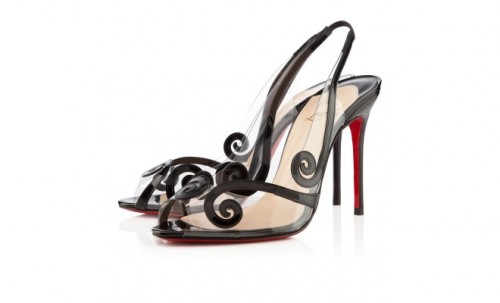 These are Au Hameau. Christian Louboutin. (The price isn't even on the web site. I think you have to call the elves and order a pair. They will total up the numbers and send a bill to your assistant's secretary. )
This dress has a nipped in waist, and then flows out over any problem areas that I may or may not have. I believe that I would have been thrilled in this dress. And that I would have been comfortable to wear it. If Heidi asked me, "Where is this girl going?" I would have to say, "To accept the Emmy for hosting my own daytime talk show. Two years from now. See you there?"
If you are not reading this post in a feed reader or at http://justcraftyenough.com then the site you are reading is illegally publishing copyrighted material. Contact us at justcraftyenough AT yahoo DOT COM. All patterns, text and photographs in this post are the original creations & property of the author unless otherwise noted.
© 2005 – 2013 Kathy Lewinski & Susan Cornish