Welcome to season 12 of Project Runway and a new season of Project Project Runway! If you want to join in the fun this season get all the details here. Let's jump right in…
Challenge – Let's Go Glamping
Create a high end, editorial fashion look inspired by nature. You are not to create a look to be worn for camping or other outdoorsy activities.


Oh my, we get to use actual fabric!
Budget – $30
Time Limit – 12 hours
Accessories – Choose your other accessories from the Belk accessory wall.
Runway Day – Runway day is Thursday, August 29th.
Just a reminder only in-progress photos should be posted to the Flickr group before Runway Day. Save the big reveal for next Thursday. Please tag your photos with PPR6 and ProjectProjectRunway.
Ok, we are going to talk about the episode now, so this is your spoiler alert…read no further if you don't want to know what happened.
First of all…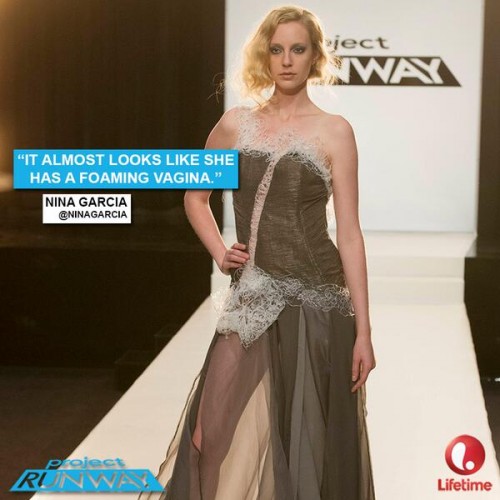 Secondly, I was so happy that the designers actually got to use fabric this week. Though, even though there were some pretty looks on the runway, none of them really blew me away.
Finally, does anyone else think the wrong person was eliminated? I really thought Karen's mess of a muumuu/toga should have gone home. Even if the judges didn't like what Justin did, at least he tried to do something interesting. Heidi said his looked like a cheap costume, but Karen's looked like a costume you'd put together in your dorm room with a sheet and a belt before heading to a frat party.
I sort of feel like his elimination was a way to force Tim's save. I'm just not sure if the save was based on talent or emotions.
If you are not reading this post in a feed reader or at http://justcraftyenough.com then the site you are reading is illegally publishing copyrighted material. Contact us at justcraftyenough AT yahoo DOT COM. All patterns, text and photographs in this post are the original creations & property of the author unless otherwise noted.
© 2005 – 2013 Kathy Lewinski & Susan Cornish