Welcome to season 12 of Project Runway and a new season of Project Project Runway! If you want to join in the fun this season get all the details here. Let's jump right in…
Challenge – YOU Chose Your Materials
Create a luxurious high-end design. This is ANOTHER unconventional materials challenge. You can chose your material from two of these three places, a wallpaper store (they did vintage, but I don't think vintage wallpaper stores are everywhere), a gourmet food store, or a party supply/home good store (the store they went to looked like a Daiso or dollar store). Remember the judges look for you to use items other than just things that are already fabric like curtains or tablecloths.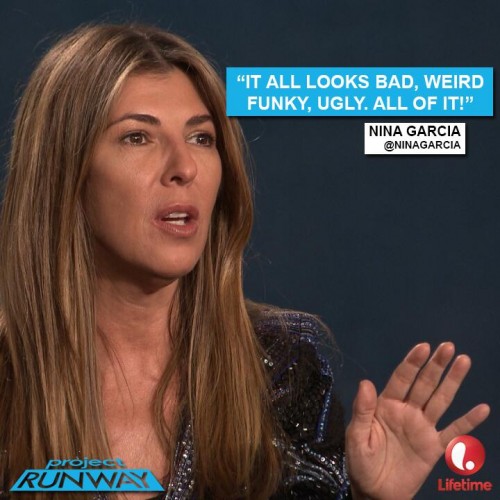 Don't disappoint Nina!
Budget – $50
Time Limit – 8 hours
Accessories – Choose your other accessories from the Belk accessory wall.
Runway Day – Runway day is Thursday, August 22th.
Just a reminder only in-progress photos should be posted to the Flickr group before Runway Day. Save the big reveal for next Thursday. Please tag your photos with PPR5 and ProjectProjectRunway.
Ok, let's talk about this episode. First off I totally agree with Sue's elimination, I don't feel like she has sewed much that was good and really her lack of skills was going to hold her back (though let's face it Anya won once).  I was fine with the winner but I felt like the all white collection felt more luxurious (maybe they should have sucked up to Lexus more). The whole bringing back Sandro thing was just, well just a little lame. It was sort of an apology to close out the story, but did anyone feel it was sincere?
If you are not reading this post in a feed reader or at http://justcraftyenough.com then the site you are reading is illegally publishing copyrighted material. Contact us at justcraftyenough AT yahoo DOT COM. All patterns, text and photographs in this post are the original creations & property of the author unless otherwise noted.
© 2005 – 2013 Kathy Lewinski & Susan Cornish