I have been looking at ideas for a girl's bedroom.
I am thinking white. I would like "sweet" and "old fashion".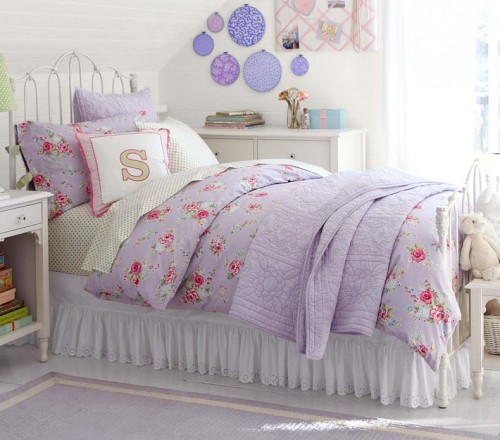 This picture is all styled and brought to us by Pottery Barn Kids.
I love the bed. And, did you see the embroidery hoops with fabric in the back?
We are moving to a warm sunny place, so I don't think she will need the 4 quilts on the bed. But, I like the eyelet dust ruffle.
The bed (alone) runs $500 -$600.
I found one


This one is offered for $295 and it is at an antique store.
If I want to go in a little bit different direction:


Here is a poster bed.
Or this nice white bed:


I love the detail on the wood there. And it's not as imposing as a full on poster bed.
I am starting with Craigslist to look for the bed. And I have learned a little bit.
1. There are some very beautiful beds for a LOT of money.
2. There are a LOT beds that look like they came from the prison system.
3. There have been some very unfortunate design choices made by people. (Let's leave it there.)
And then, I did want to share with you, the "French Provincial" twin beds that I found.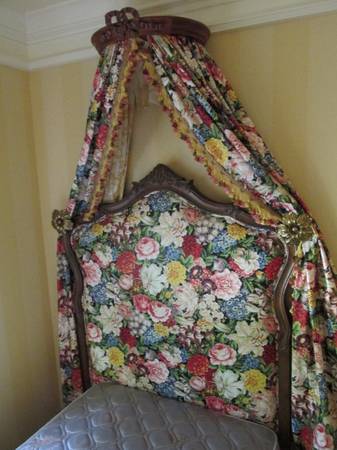 While these canopies are very well done, to be sure, that is a WHOLE LOT OF LOOK there.
I need to add, this will be the first time I get to decorate a girl's room. In our San Francisco house there were not really "bedrooms". We had her crib up in the loft space with us. So this design assignment is the "cherry on the top" of my dream come true. I could not be more excited.
I should run some of these ideas past her too. Just to make sure we are all on the same page before the "big reveal day".
If you are not reading this post in a feed reader or at http://justcraftyenough.com then the site you are reading is illegally publishing copyrighted material. Contact us at justcraftyenough AT yahoo DOT COM. All patterns, text and photographs in this post are the original creations & property of the author unless otherwise noted.
© 2005 – 2013 Kathy Lewinski & Susan Cornish