A recent Iron Craft Challenge had me hip deep in my notions stash.
I hit some hurdles along the way, and did not make the deadline. (shocking!)
But after I went in a different direction, I ended up with one of my FAVORITE tops. So I wanted to share the details with you.
Embellished Tee
Supplies:
one great tee
notions from the fabric store (trim, beads)
fusible flexible interfacing
thread
clear thread
Tools:
a vision
an iron
sewing machine (optional)
Cut a piece of fusable interfacing that mirrors the neck line of the shirt. (or mirrors the placement of your embellishment.)
Iron on the interfacing.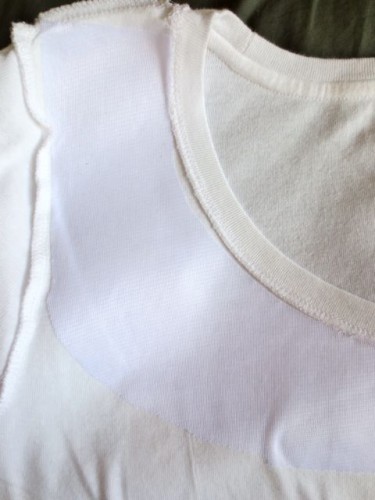 Next, add the embellishment.
This is a tiny little garland of flowers. I didn't have enough to go all the way around. But I love this little thing so much, I just put it around the neck line and that was enough. I sewed this down with a big stitch and white thread on my machine. I got this little trim on a trip to France  in a TINY knitting shop in Arles. It was hot as blazes outside. I had NO IDEA what I would do with this stuff. That trip was 9 years ago and I just used the very last inches of it. Dear readers, I am not sure if I should be proud that I sewed from my stash. Or horrified at my ability to justify my stash so very easily!
Next, time for beading.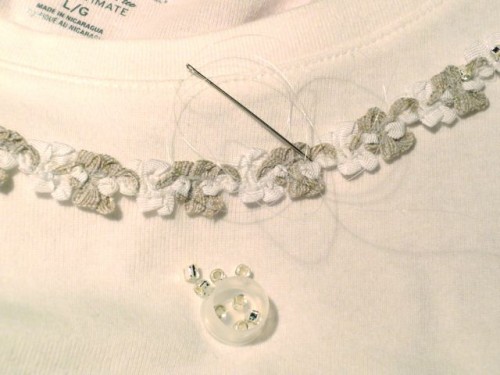 As you know, in our house "more is more" and "sparklie things" are always better. We like Bling so much in our house you would think we were running a hip hop label here. I hand sewed the beads using the clear "fishing line thread".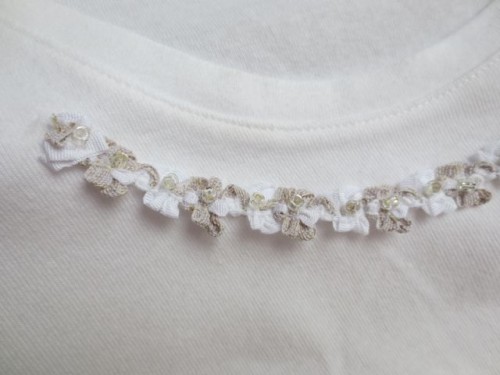 The shirt has already been to Dolores park, and then out for ice cream.


Have you done any beading? I see more in my future.
And what about ice cream? I see more of that in my future too.
If you are not reading this post in a feed reader or at http://justcraftyenough.com then the site you are reading is illegally publishing copyrighted material. Contact us at justcraftyenough AT yahoo DOT COM. All patterns, text and photographs in this post are the original creations & property of the author unless otherwise noted.
© 2005 – 2013 Kathy Lewinski & Susan Cornish