I have been so inspired by whats been done with Perler Beads.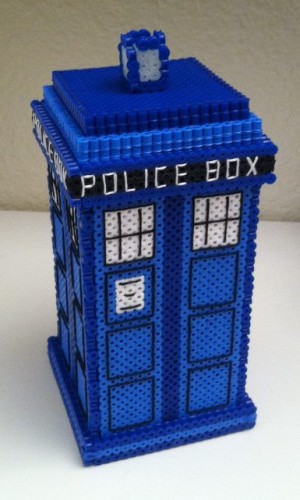 Like, this Tardis (from Dr. Who). Man is that spectacular. (You can find the pattern here. Thanks Kyoti)
I finally picked up the most basic starter kit, and brought it home for our approval.
Oh, I hyped this project up. We got the sea animals pack, so you could choose an octopus, a dolphin or a fish.

So easy. Harmonious families of colors already mixed for us. This was a no-brainer. "Here you go sweetie! This is going to be great!"
"Mom, come do my project with me!"
So, I finished ironing one more shirt and I thought "yes, join your kid when she asks, for crying out loud!"
I chose the octopus. (She picked the dolphin.) And I set to work.
Uhm. When I sat down, Amelia had successfully laid 6 beads onto the "posts" on the little guide card.
I started picking up beads and trying to line them up. I wanted the legs to be certain colors and look a certain way.
People. This is no joke. I am not sure if there is a perler bead tool that I was not told about. Or if I am actually a monkey masquerading as a craft blogger. But this was RIDICULOUS. Picture threading a needle, on a moving subway, standing up, drunk, with one hand. That comes close.
Amelia said "Mom, keep trying!" But meanwhile, she had abandoned the dolphin and turned to play with her barn.
I took a pin out of my pin cushion, and tried to flick the beads into place. This was MILDLY more successful. Better than trying to pinch them individually. Forget a "color pattern", lets just get these things on to the card!  My new technique was "more is more" and I just poured beads over the target. Half of them landed in the proper way, and half were on their side.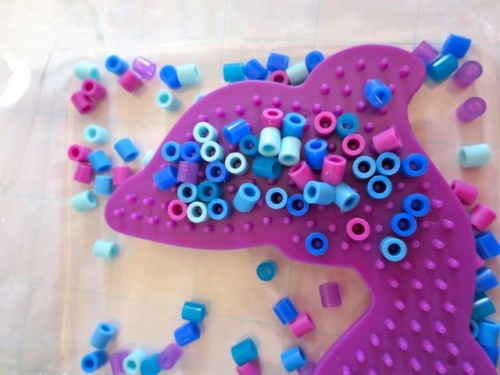 Then I took the pin and flicked the offending beads into their upright positions. In the end, getting this thing set up took about 15 minutes. Painful.
With the precision of a surgeon, I walked the little form with the little beads in place, shaking precariously, over to the ironing board. I put the paper over the top, and I set the iron down on it. slowly, it started to melt down. That portion of the craft was every bit as satisfying as you would expect it to be.
Here is the octopus from the "bottom" (the non-melted side)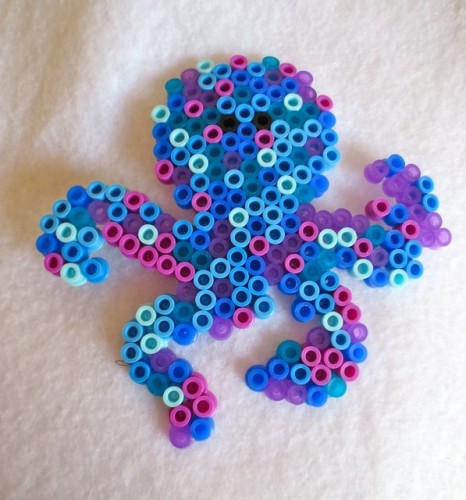 And here is the side that was ironed


I like them both. Amelia liked it.
They sell a special tweezer.
I thought to myself, maybe this would be a fun preschool project. Then I got into it and I thought maybe this was for more 2nd graders. Then I thought older kids would be more suited to it. But by the end of 10 minutes with a quilting pin in my hand, I thought this might be the craft without a home. And then, the siren call of the Tardis comes to haunt me. Look at how cool some of these projects can be!
Like Amelia said "keep trying Mom!"
If you are not reading this post in a feed reader or at http://justcraftyenough.com then the site you are reading is illegally publishing copyrighted material. Contact us at justcraftyenough AT yahoo DOT COM. All patterns, text and photographs in this post are the original creations & property of the author unless otherwise noted.
© 2005 – 2013 Kathy Lewinski & Susan Cornish