Kathy found this interesting opportunity and we started having a discussion about it.
Archival Inn bills itself as a self-lead retreat center in Holland, Michigan. It is a house with a big kitchen that is set up as a rental for hosting retreats. It is marketed to a scrapbooking crowd, but the way the room is laid out, you could do lots of different activities.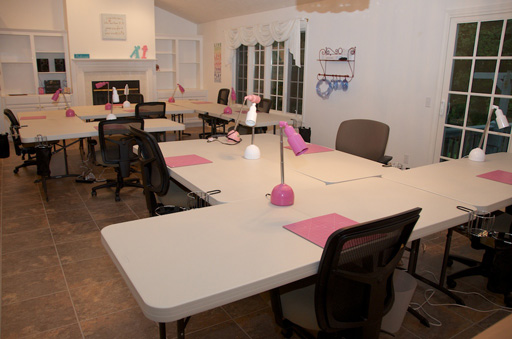 With a work space like that you do sewing, knitting, quilting… The only limitation would be sewing machines for your guests that were flying in.
Have you ever done a retreat? Knitting? Sewing? Writing?  Would you ever want to?
Here is a little list of Crafting Cruises for you to ponder.
Or, there is always an Iceland Knitting Tour.
Happy 2013. There is some planning to be done!
If you are not reading this post in a feed reader or at http://justcraftyenough.com then the site you are reading is illegally publishing copyrighted material. Contact us at justcraftyenough AT yahoo DOT COM. All patterns, text and photographs in this post are the original creations & property of the author unless otherwise noted.
© 2005 – 2013 Kathy Lewinski & Susan Cornish