Our friend Jelly Bean has always loved "Froggy"
She carries him at all times. In order to avoid the dreaded loss, there are several froggies "in play" at any given time. But like every child on the planet, she is aware of the duplications, and has numbered them. This frog is actually smaller. Thus – baby frog.
And here, our lovely friend has created a LOOK!
Jelly Bean is 3.9 years old! And got no help from her Mama on this.
Froggy has on a summer jacket and a hat!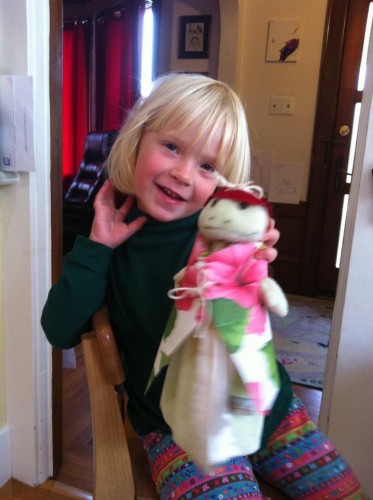 Look out Project Project Runway! A new crop of designers is on the way!
If you are not reading this post in a feed reader or at http://justcraftyenough.com then the site you are reading is illegally publishing copyrighted material. Contact us at justcraftyenough AT yahoo DOT COM. All patterns, text and photographs in this post are the original creations & property of the author unless otherwise noted.
© 2005 – 2012 Kathy Lewinski & Susan Cornish