Challenge – Starving Artist
On the show the designers had to use craft supplies to decorate t-shirts to sell on the street. The money they got from their sales was the only budget they had for fabric to create fall looks including outerwear.


Yeah, that whole thing was kind of meaningless.
We are not going to send you out to sell things for your fabric budget. Really how much do we really spend on fabric for these designs anyway? Your challenge is to create a look for fall. We would like you to challenge yourself and include outerwear in your look. Time to start practicing sleeves designers!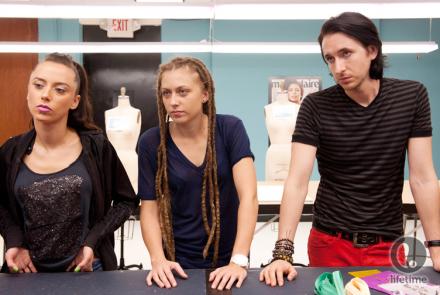 I was really waiting for an Eastern European smackdown last night with this team. Typically, I think people are edited to look like the villan on Project Runway, but too many of the designers have said how awful Elena is for me to think this is editing. I still don't like Ven, but Elena is right up there. Plus, honey, go see someone at the MAC counter because that hot pink lipstick is doing you no favors. (Man, I'm catty this morning!)
Time Limit – You have 1 day to complete your look.
Accessories – Feel free to chose accessories from the Lord and Taylor Accessory Wall to go with your outfit.
Runway Day – Thursday, Sept 13th
Just a reminder only in-progress photos should be posted to the Flickr group before Runway Day. Save the big reveal for next Thursday. Please tag your photos with PPR8 and ProjectProjectRunway.
If you are not reading this post in a feed reader or at http://justcraftyenough.com then the site you are reading is illegally publishing copyrighted material. Contact us at justcraftyenough AT yahoo DOT COM. All patterns, text and photographs in this post are the original creations & property of the author unless otherwise noted.
© 2005 – 2012 Kathy Lewinski & Susan Cornish