One of the fun things about doing an online craft project like the Granny Square Sampler Afghan Project is getting to know some of the other crafty bloggers out there. Polka Dot Cottage is one such new favorite I discovered while working my way through learning to crochet. I was excited to see last week that she has reintroduced her line of custom handcrafted crochet hooks.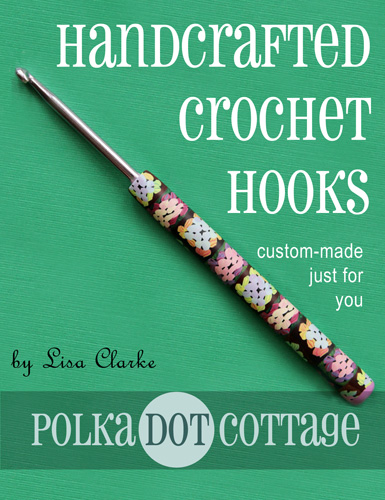 Lisa makes these hooks to order, so you can pick your hook size, preferred brand and the design for the handle. She currently has nine pretty patterns available.


The handles can be ordered with or without a flat thumb rest. A lot of people have commented how the shape of these hooks is actually more comfortable to work with than regular hooks and helps if you experience joint pain while crocheting.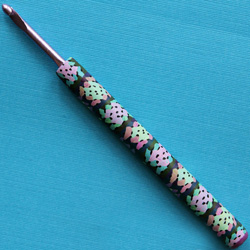 Yes, these cost a little more than running to your nearest Jo-Ann or Michael's for a hook, but when you craft as much as I do, there is nothing better than having beautiful, well-made tools. Plus supporting another crafter only helps the community as a whole.
Lisa is currently accepting orders until October, so she'll have time to make the hooks and have them shipped for Christmas. Wouldn't they make a lovely gift? She also does custom buttons and pens.
***Disclaimer: We were not reimbursed in anyway to talk about these products. We just believe in supporting other crafters.
If you are not reading this post in a feed reader or at http://justcraftyenough.com then the site you are reading is illegally publishing copyrighted material. Contact us at justcraftyenough AT yahoo DOT COM. All patterns, text and photographs in this post are the original creations & property of the author unless otherwise noted.
© 2005 – 2012 Kathy Lewinski & Susan Cornish