This time on Project Project Runway, we were asked to design a look for a strong, sophisticated professional woman. On top of that, it had to fit in with one of the two collections put together by the designers on Project Runway. I chose to make my outfit to go with the collection from Team Six.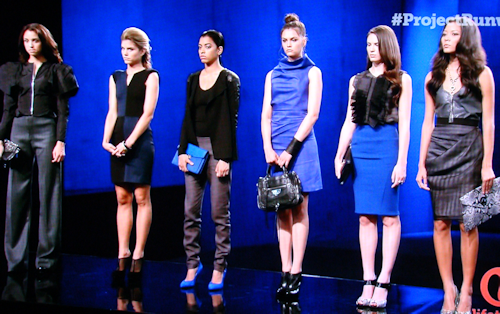 Mainly, I picked it because I liked the colors better than the other collection. (I just didn't like that purple print.) I felt like some of the designs on the show were a little strange for work wear (I don't know anyone who would wear a sleeveless, one shoulder, silky top to work). So, I tried to think about something that a woman would really wear to an office.


My look starts with a pop of color from a bright blue jacket. The jacket has 3/4-length sleeves and is trimmed at the hip in black. The fabric has a little stretch to it which would make it comfortable to wear all day.


Underneath the jacket is a black, sleeveless blouse with a self tying collar. It is feminine, but the tie calls back to men's wear. While it is sleeveless, it is still demure enough to wear at work. The skirt is a simple, slightly high-waisted pencil skirt made with a beautiful black, herringbone weave fabric. If my woman had dinner plans after work the blouse and skirt would look nice on their own with maybe a little added jewelry.


I know it's a little matchy-matchy, but I couldn't resist pairing this look with blue pumps and a large work friendly bag.


The challenge on the show included at photo shoot for Marie Claire @ Work. So, Jade and I had our own photo shoot. Doesn't she look ready for business with her suit and laptop?
I hope the judges would be impressed by the fact I did a three-piece look in the time allotted. The jacket is well made and fits Jade perfectly. I think Nina would like the blouse, she likes a little interest near the face in clothing. To me, it is the type of outfit a real professional woman would want to wear.
This challenge didn't feel all that different than last week's – woman on the go v. professional woman. Hopefully tomorrow we'll get something a little different to work on.
If you are not reading this post in a feed reader or at http://justcraftyenough.com then the site you are reading is illegally publishing copyrighted material. Contact us at justcraftyenough AT yahoo DOT COM. All patterns, text and photographs in this post are the original creations & property of the author unless otherwise noted.
© 2005 – 2012 Kathy Lewinski & Susan Cornish