This week we were asked to design something for the "woman on the go." The look had to be chic, versatile and comfortable. Tim suggested we create a story for our woman to help us understand what sort of outfit she needs to get her through the whole day (I think a lot of the designers on the show missed this step because a lot of their designs were either very casual day looks or dressier night looks with no in between).
So, here is a day in the life of my "woman on the go." She lives in San Francisco with her techie husband and one adorable offspring. The day sees her up at 6:30am, dressing herself and her adorable offspring. Then she needs to make breakfast for the family, plus pack a lunch for the offspring. 7:30 am her husband is catching the Google bus and she is walking the adorable offspring to preschool/daycare, then it's off to catch the J Church downtown to her job as a high-end real estate agent. During the day, she runs from the office to showings either by walking or taking taxis and trains. She grabs a quick lunch while shopping at Nordstrom for new shoes. By 6:00pm she has taken the train home and picked up the adorable offspring from daycare. At home she feeds the adorable offspring some organic mac and cheese with farmers market beans, then sits down for a brief story time. The baby sitter arrives at 7:00 just as her husband's bus is returning him home. She changes quickly into heels and gives her make-up a touch-up before they catch a cab to meet friends in the Mission for a dinner party. I'm tired just imagining her day. She needs an outfit that feels comfortable running around all day and can still look good for going out at night.


Her outfit consists of a black jersey cap-sleeved dress with a vee in the back. The dress is fitted, yet still comfortable. A chain belt helps define the waist and adds a little bling. Topping off the dress is a jacket made of a stretch black denim with a subtle animal print. (Oh, was I happy to find that fabric.)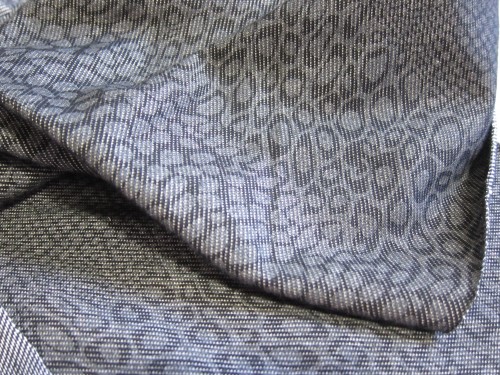 The collarless jacket closes asymmetrically with a large silver button. For day, the look would be paired with black boot and at night, I added a pop of color with some blue pumps.


I'm really thrilled with how this whole look turned out, it is something I can really see someone wearing through the day described. I spent a lot of time making the jacket and feel like it really shows in the finished piece. I think the whole look is professional enough for day, but hip enough for an evening out. The judges would be impressed with my jacket (and a few might want it for themselves). The dress is probably a little safe, but hopefully the tailoring and styling take it up a notch.
Seeing what was safe on the show this week, I totally have to call myself safe to move on to the next challenge.
If you are not reading this post in a feed reader or at http://justcraftyenough.com then the site you are reading is illegally publishing copyrighted material. Contact us at justcraftyenough AT yahoo DOT COM. All patterns, text and photographs in this post are the original creations & property of the author unless otherwise noted.
© 2005 – 2012 Kathy Lewinski & Susan Cornish