This was our week to design for a friend.


I picked my co-host, Kathy. This summer, while we were visiting, she was trying things on for a summer wedding.
It was so fun to see the different dresses.


(It was just fun to be in the same city!)
First, I went to Britex Fabric to make my selections. As ever, my "team" was with me.


The back office at Britex Fabrics is actually a bright, wonderful space. And the fact that "my team" is so warmly welcomed there every week is such a treat.
With a dressy look in mind – but not red carpet – I wanted something nice, and friendly. I found this first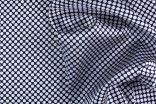 Italian Navy & White Dotted Stretch Silk Charmeuse
This piece of silk is so beautiful, it is like holding butter in your hand. And with the stretch in it, I was fearless. It would be SO comfortable! I wanted to make sure that the dot did not read "Minny Mouse", so I did not add red accents, or do a whole dress in dot. (if this was not for a tiny Barbie, the dot would be elegant in scale.)
I wanted a versatile, two piece look. So the next fabric that we picked was this Ivory Eggshell Silk & Lycra Charmeuse


This is one of the most spectacular samples of fabric I have ever touched. It is so simply elegant.
And here is the outfit


The neck is 50's inspired. It shows collar bone, but it is not 'revealing' per se.
The skirt is a little bit on the longer. I did that on purpose so that Kathy could wear it in other seasons and other countries too. Kathy travels with her husband, and I want her to have something special that packs well.


The back has a faux wrap that creates a pleat. It does not open (so you don't have to worry when you are on the dance floor), but it creates interest in the back.


The look is easy.


It does not have a skin tight top. And the lycra in the silk means that these will fit well, without pulling.
My client is a jewel. She is super easy to work with. She always has been. And I only wish I could make this is real size for her. I think she would look great in it.
I really had fun with this challenge. And never mind the controversy about "real women". I have a lot of trouble creating for Barbie. I have wanted to pull off her head, cut off her thumbs, and pull her arms out of the sockets. When I work with Kathy, none of these things ever happen. No one gets hurt. And she is exceptionally good to "my team". : ) I only wish I could work with her every week. Oh, wait. I DO! I'm so lucky!
PS:Little Jams made the model a sandwich. I thought that was very fitting.

If you are not reading this post in a feed reader or at http://justcraftyenough.com then the site you are reading is illegally publishing copyrighted material. Contact us at justcraftyenough AT yahoo DOT COM. All patterns, text and photographs in this post are the original creations & property of the author unless otherwise noted.
© 2005 – 2012 Kathy Lewinski & Susan Cornish