This challenge was inspired by all the neat metal and plastic that we find at the hardware store. I expanded just outside of the "Hardware Store" specifically, and went with it's cousin, the Auto Parts Store. Most people visit Home Depot once a weekend, "we" visit Kragen/or Autozone one or more times per weekend. So this seeemed fitting.


I took a Torrington Bearing that I thought was really beautiful, and made a great necklace.
Torrington Bearing: In a camshaft drive, "Torrington bearing"refers to a roller thrust bearing used in place of a flat hardened steel or bronze thrust washer, or no thrust washer at all.
The Torrington radial roller thrust bearing has lots of little (about 1/16 inch diameter) needle rollers arranged radially (like wheel spokes) in a cage. It goes between the cam sprocket and the block to take the thrust loads (in/out along the cam axis). The inside diameter fits over the cam journal (about 2 inches). It can take lots of load with very little friction, and needs very little oil.
So, those little pieces you see actually move. You can roll them in your fingers.
This is not an elaborate design, I think the real interest in it is the bearing itself, which is a beautiful functional piece. And for me, it is a neat way to relate to my husband and some of the "challenges" that he is working on.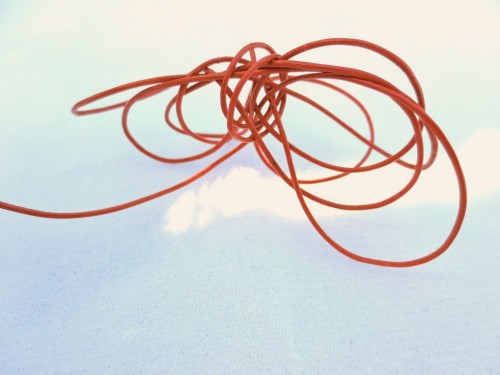 I used a tiny leather coated chord that I found one the heavenly 3rd floor of Britex Fabrics.
Here is a super tutorial about how to tie the double slip knot in the leather cord


This is may not actually be "jewelry".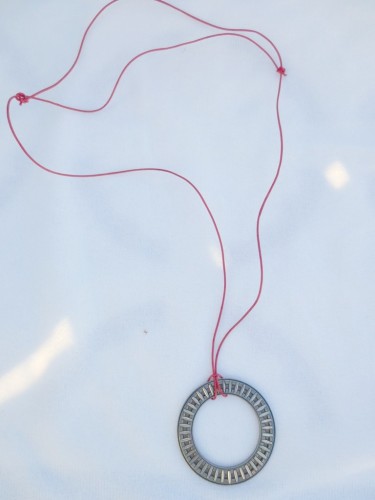 I think maybe this would classify as "an accessory".
I love this piece of industrial metal. And I love the cord. And I am going to incorporate this immediately into my Mommy wardrobe.
If you are not reading this post in a feed reader or at http://justcraftyenough.com then the site you are reading is illegally publishing copyrighted material. Contact us at justcraftyenough AT yahoo DOT COM. All patterns, text and photographs in this post are the original creations & property of the author unless otherwise noted.
© 2005 – 2012 Kathy Lewinski & Susan Cornish