Our challenge was to make something in or around a box.
I had the idea to make a diorama. But the important part was that my 3 year old was to be an integral part of the project. This is a box that we did together.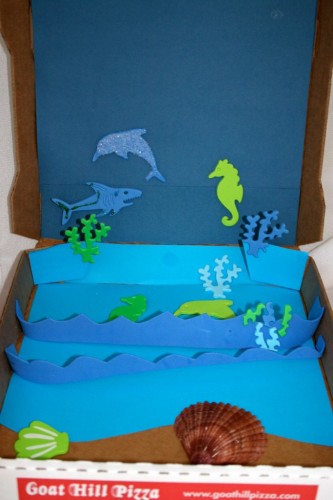 Supplies:
Pizza box. (a clean one- I just asked for one when I was there last time.)
foamy stickers (I had the "ocean themed" ones) Note: it would be fun to do this in a different theme too. Garden, Woods, Dinosaurs, Pirates, zoo – you can go with the inspiration from the foam sticker packages like these, or make one up completely on your own.
glitter, in many forms. Glitter glue, glitter gel pens, "shake" loose glitter, any other form of glitter.
construction paper
scissors
rubber cement (or other appropriate glues)
other bits and bobs: shells, sticks, sand, …
First, I covered the bottom of the box partially with paper, leaving room for the beach. The waves are cut from strips of foam, and they folded back, and glued tightly.


Then the foamy stickers were applied. Amelia helped with most pieces of the process.
She got very involved with the glitter gel pens, and the addition of the shaking glitter.


I was amazed by her 'staying power'. We even had to break the process into stages, because the globs artistic rendering of the glitter gel needed to dry.


And here is our box after a few rounds:


I think we will be able to bring this out again, and add to it.
We still have a lot of pieces drying:

We had a ball making it together.


And that makes it all the better!
If you are not reading this post in a feed reader or at http://justcraftyenough.com then the site you are reading is illegally publishing copyrighted material. Contact us at justcraftyenough AT yahoo DOT COM. All patterns, text and photographs in this post are the original creations & property of the author unless otherwise noted.
© 2005 – 2012 Kathy Lewinski & Susan Cornish