Challenge – Finale
Design a mini-collection to showcase your talent and skills as designers. On the show, they had to create six looks. Since we aren't all doing this fulltime, we will say you can create one showstopper look or a small collection of any size you choose. We would love to see you use leftover fabric from the previous 10 challenges in one of your looks. Feel free to also include drawings for designs you might not have time to make. Budget $300, ha!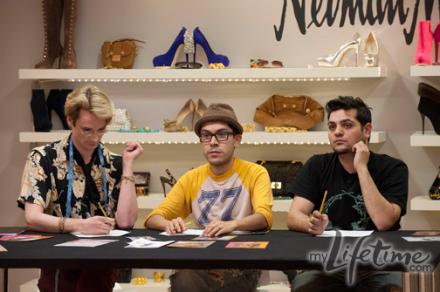 We've decided since nobody seems to care too much about judging that we won't bother with it and instead keep this non-competitive.
Time Limit – You have 4 days to complete your looks.
Accessories – Feel free to chose accessories from the Nieman Marcus Accessory Wall to go with to go with your outfit.
Runway Day – Thursday, March 22nd. Our runway will be the same day as the finale of the show.
Just a reminder only in-progress photos should be posted to the Flickr group before Runway Day. Save the big reveal for next Thursday. Please tag your photos with PPRfinale and ProjectProjectRunway.
If you are not reading this post in a feed reader or at http://justcraftyenough.com then the site you are reading is illegally publishing copyrighted material. Contact us at justcraftyenough AT yahoo DOT COM. All patterns, text and photographs in this post are the original creations & property of the author unless otherwise noted.
© 2005 – 2012 Kathy Lewinski & Susan Cornish