Challenge – When I Get My Dress In Lights
Innovation and technology are as much a part of fashion as fabric and thread. Use lighting techniques to create an avant garde look. The runway will be lit with black light. You have a budget of $35 for lighting equipment and $10 for fabric.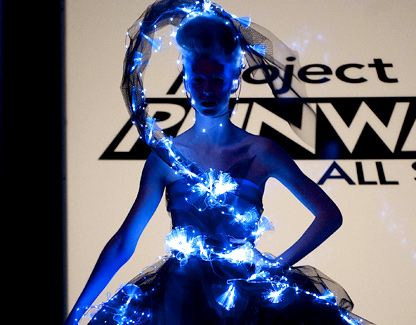 This is a tricky one for us as most lighting effects are probably too big. Our suggestion is to have fun with it, add glow sticks, Christmas lights or el wire. Use glow-in-the-dark paints and glitters. Light your "runway" with a black light bulb. At the very least use neon bright fabrics. Can't wait to see what you all come up with.


Time Limit – You have 2 days to complete your look.
Accessories – Feel free to chose accessories from the Nieman Marcus Accessory Wall to go with to go with your outfit.
Runway Day – Thursday, March 8th
Just a reminder only in-progress photos should be posted to the Flickr group before Runway Day. Save the big reveal for next Thursday. Please tag your photos with PPR9 and ProjectProjectRunway.
If you are not reading this post in a feed reader or at http://justcraftyenough.com then the site you are reading is illegally publishing copyrighted material. Contact us at justcraftyenough AT yahoo DOT COM. All patterns, text and photographs in this post are the original creations & property of the author unless otherwise noted.
© 2005 – 2012 Kathy Lewinski & Susan Cornish