I was looking at different people's craft rooms on line. Just for fun.
Here is Claire Croft's room


My hat is off. That is a beautiful stash, and it is not hiding. I would love to see the titles in her library (on the bottom shelf there).
Hilary Lang showed us her craft room shelves


And blogged about it here.
And this brings me to my main thought/question.
Is the ideal craft room a clean, clear white space? Literally, a blank canvas? Or should it show case your inspirations?
Or, should it showcase your supplies, so that you have a full understanding of what you have? And let the colors and textures inspire you?
Here is a stunning studio done in deep turquoise.


Go and see the whole set. That is a beautiful creative space.
By contrast, here is a "white" space.
This is Lotta Jansdotter's Studio in Brooklyn.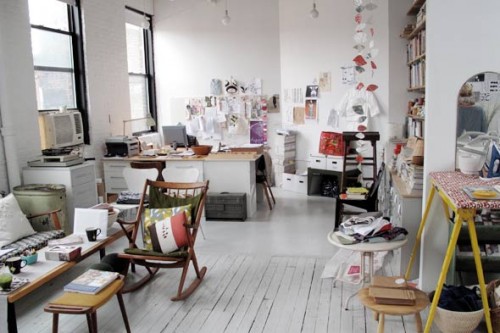 This photo is from Shelter Pop, and they did a really nice interview with Lotta. You can see the whole thing here.
Before I turn green, I will remind myself that Lotta is, in fact, a professional.
What about you? What does your space look like? Have you appropriated a corner of the guest room? Do you have your own space out back? Or do you cut your fabric on the dining room table?
Where ever you craft, have a happy weekend!
If you are not reading this post in a feed reader or at http://justcraftyenough.com then the site you are reading is illegally publishing copyrighted material. Contact us at justcraftyenough AT yahoo DOT COM. All patterns, text and photographs in this post are the original creations & property of the author unless otherwise noted.
© 2005 – 2012 Kathy Lewinski & Susan Cornish