Challenge – The Finale Challenge
Challenge – Create a three look mini collection inspired by Governors Island and the sculpture exhibit on it. It must demonstrate a range (pants, dresses, jumpers, various silhouettes, etc) and show your design vision.
For Project Project Runway we only asked everyone to do one look, but once I got started I ended up doing the full mini collection.


My looks were inspired by the colors and lines of the sculpture exhibit.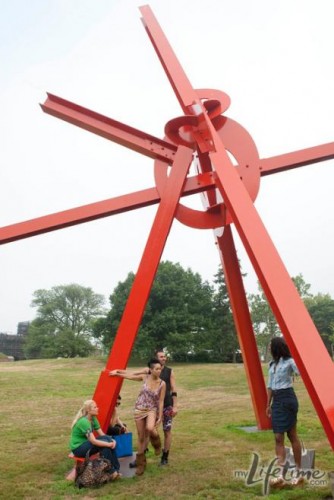 Look 1 is formal separates.


The top has one sleeve and a high neck on one side and is gathered on the other. I kept the skirt simple and straight to let the top be the star.
Look 2 is a jacket and pants.


Once again the bottom is simple. The top is a sleeveless jacket with a large collar and deep v front. The belt of the jacket brings in the stripes.
Look 3 is a cocktail dress.


The fabric is menswear inspired, but the dress definitely is tailored to show off a woman's curves.
I think I did a good job of showing a range of looks for the challenge, but they all look like they are from the same line. The jacket could be worn over the dress and the striped top could be worn with the pants. Heidi would want to wear the short cocktail dress. Nina would think both the striped top and jacket are editorial. Michael would think this line has looks actual women would want to buy and wear. Guess I'm going to fashion week.
If you are not reading this post in a feed reader or at http://justcraftyenough.com then the site you are reading is illegally publishing copyrighted material. Contact us at justcraftyenough AT yahoo DOT COM. All patterns, text and photographs in this post are the original creations & property of the author unless otherwise noted.
© 2005 – 2011 Kathy Lewinski & Susan Cornish