This week we were supposed to create a high end look inspired by a bird.
I loved the color of the cockatoo. The wonderful pink/peach of the feathers was so rich.
I got some lovely peachy fabric and some that looked like layered feathers to me.
I got it home, and I started draping.


Sweet!
Not.
The peach was super shiney-sparkly. And then the 'feather' one read "giraffe". Together, they are just 'unfortunate'. (that is my favorite euphemism from this season.) (last season we adopted "Cray cray")
It was just bad, bad, and bad.
So I regrouped.  I went with the Raven. And I didn't do an all black look.


It's a high end look. But it's not fussy.
I had a rose to put on the dress. But I edited!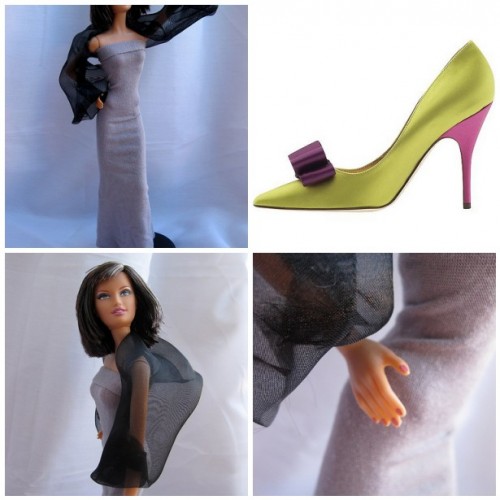 I paired it with a great Kate spade shoe. Just because I loved the colors. And they, in fact, are bird-like colors.

It's a well sewn dress. Michael said "you certainly know how to cut for a woman's body". Heidi said that she would wear this (because it was tight). And Nina thought it would photograph well. it was advertorial.
If you are not reading this post in a feed reader or at http://justcraftyenough.com then the site you are reading is illegally publishing copyrighted material. Contact us at justcraftyenough AT yahoo DOT COM. All patterns, text and photographs in this post are the original creations & property of the author unless otherwise noted.
© 2005 – 2011 Kathy Lewinski & Susan Cornish