This week, we were given some ambiguous directions. What I do know is that we were supposed to use suede and/or denim, and the look was going to be worn with sneakers. (have you ever seen a model in sneakers on the runway? No, is the answer.)
My look is a three piece ensemble.

But, before we go there, there was some drama in the work room.
First, let it be said that as much as possible I try to work with what I have at home. A friend gave me these AMAZING design house samples last year and I to go from that bag as much as possible.
There was a great piece of 'leather' in there, and a wonderful rust tones stripe that worked with it.

But the fabric I use is not always conducive to the "barbie" scale. The sleeves completely frayed. And this look was not going to work with big 'angel' sleeves.
The length of the top looked Biblical, like "Joseph's Coat of many colors"


So I cut it off, and things did not improve.
Tim came in and was horrified. He said "Make it work. You have a lot to do."
If Julie aka "dog blankets" were still on the show, she would have made something AMAZING out of this!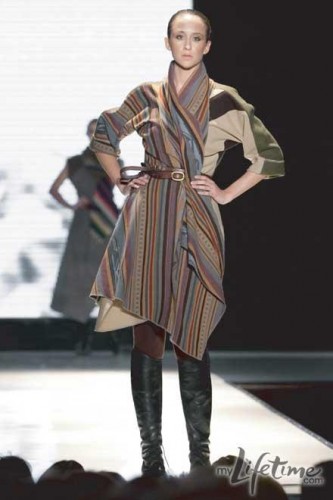 I went with separates, and hope the judges will look kindly on that.

And the top is fitted with darts on the sides


I paired the look with the stone tone shoes, glasses, and a big gold ring.
When the judges asked who this girl is, I said she is a New Yorker. She is out, in the summer, on a check on a photo shoot for her clients'. If it is going well, she is meeting a friend for lunch.
The judges didn't love it. But they said I was safe until next week.
It is worth noting, I am packing for a little trip (!!!!) I am going to NYC tonight. There will be all manner of adventure. The contestants are 'at home' right now in real time preparing for fashion week, which is September 9th. So I cannot go to Gothem and see if I can tell who is still playing. Maybe I can have lunch with Tim. ? Who knows. Stay tuned.