Challenge – Go Big or Go Home
Create a look for a model on stilts.
For us, we will interpret the challenge with our dolls on stilts. It will depend on your doll, but for me, what worked was to use chopsticks. I taped chop sticks to her legs. Dowels or even sticks from the yard would work too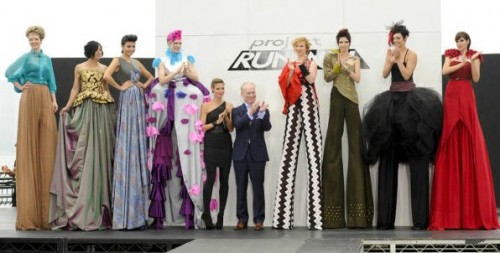 It looks as if the stilts extend the models about as far at from the knee to the foot. So if you are engineering stilts for your model think about making them about 1/4 taller.
Create a look that is eye-catching, imaginative and truly larger-than-life,  but remember, the judges frowned upon "costume" looks, and responded favorably to the looks that would translate to the runway.
If you want to imitate this challenge even more, have your runway outside.
Time Limit – You have 14 hours to complete this challenge.
Accessories – Feel free to chose shoes and accessories from the Piperlime Accessory Wall to go with to go with your outfit.
Runway Day – Thursday, August 11th
Just a reminder only in progress photos should be posted to the Flickr group before Runway Day. Save the big reveal for next Thursday.
Have fun.
If you are not reading this post in a feed reader or at http://justcraftyenough.com then the site you are reading is illegally publishing copyrighted material. Contact us at justcraftyenough AT yahoo DOT COM. All patterns, text and photographs in this post are the original creations & property of the author unless otherwise noted.
© 2005 – 2011 Kathy Lewinski & Susan Cornish