This week we had to design a look for Nina. It was supposed to be able to transition from day (office)  to night ("industry event") .
I found a fantastic piece of gold textured fabric, and spent an inordinate amount of time working on a skirt and top. Separates, don't ya know, to please Micheal Kors. Hours and hours into it, I was struggling. The fabric was fraying, and I was pouring on the 'fray check' and then waiting for it to dry. Sewing on the scale of Barbie is no joke. And I am reminded of that every week.
Finally, I pulled the plug, and switched to a black dress. (for Nina? What a stretch, right? )
This dress, while it looks plain, is one of those 'transformer' dresses!
It is a short dress with sleeves by day.

And a long sleeveless dress by night!

The collar is slightly off the shoulder. The sleeves have cuffs that reflect the neck detail. It pulls its inspiration from the 50's.
It is not the most elaborate dress ever, but it walks well on the runway.
For the day look, I would add color in a bangle, and Nina does wear some dramatic shoes, so I choose these snake skin open toe ankles.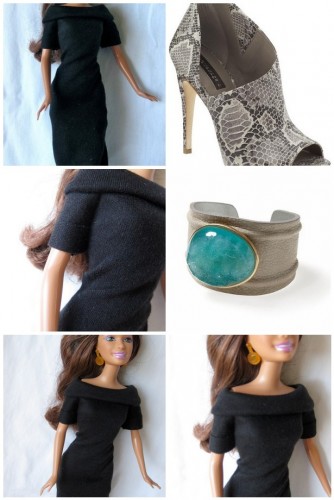 For the night look, I would just add some bling at the shoes.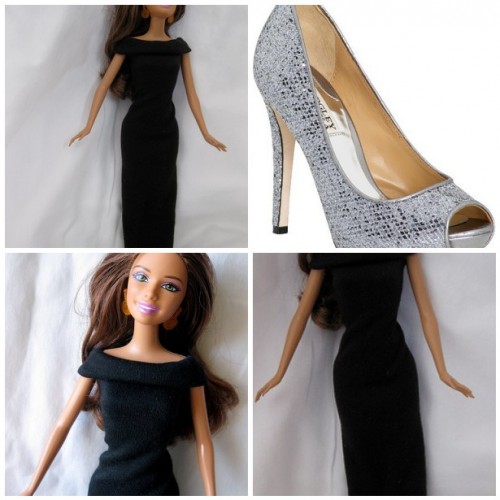 I hope the judges appreciate the versatility of the dress. I will be happy with "safe" this week. !