In this day of the Nook, the Kindle, and the Iphone – books are feeling threatened.
(not in our house though. But I've heard about it!)
This week the challenge is to do something with a book.
You could just hollow one out to keep special secret things in it.
Or you could go for ART.
room divider done in books
From TU Delft Architecure Bibliotheek in Holland
Here is some clever folding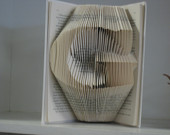 Marcy Bates with Recycled Reads (also on Etsy)
That is Marcy from Recycled Reads
How about a slice of Book cake?
book layer cake
By Artist Robert The, actually, showing at the Walker, for you Minneapolians.
Now, let it be said that part of this challenge breaks my heart. I love books. And cutting into one seems like a sacralegde. But, I do have one, and I enjoyed it, and I tried to sell it so that someone else could enjoy it too, and I was told that the store would not take it. They have given up on hard bound books almost entirely.  (and this is no great work of fiction… not a collector's item by any stretch.) So I feel safe to use that.
Have fun. I cannot see what you come up with.
Posting date is Wednesday, August 31st. Only in progress photos before that date please. Tag your photos with IC35 and IronCraft.
If you are not reading this post in a feed reader or at http://justcraftyenough.com then the site you are reading is illegally publishing copyrighted material. Contact us at justcraftyenough AT yahoo DOT COM. All patterns, text and photographs in this post are the original creations & property of the author unless otherwise noted.
© 2005 – 2011 Kathy Lewinski & Susan Cornish