This game is so fun – and we would love more contestants if you would like to play along with us.  It is the ultimate 'play at home' game show!
Here are a few things we learned about selecting our models.
1.We both chose dolls that are 'standard' 'Barbie' height. (11.5 inches tall) Kat is working on a Moxie doll, and I am working with a classic "Barbie".  (I never had a Barbie as a kid, so I am clearly working out some long repressed issues!) (Update 7/2012: Kat has switched to a Liv doll with fully posable limbs and removable hair. She has found that sewing on a doll without hair is so much easier! Plus the different wigs you can get for her can add to the looks you design.)
Kathy's Moxie model for this year
2. We thought it would be 'fun' and 'easy' to do the outfits quickly on such a small scale. WHA HA.  Sewing in Barbie scale is wicked hard.  The sleeves are TINY. So, by all means, do not pick a SMALLER doll.
3. We would like to go bigger, but we had trouble scaling up. The next bigger widely available doll is "American Girl". And the trouble is that these dolls do not have women's figures. They are girls. And the fashion does not read the same on them.  (A strapless gown does not look right on a 5 year old girl doll with no bust.)  The American Girl size would be really perfect from a sewing standpoint.  So then, we went looking for dolls that were a little bigger, but shaped like women. (or, even some sort of comical idealized version of a woman – as in Barbie) and, holy cow, this is where the internet gets really scary! There are people out there in the world who are admiring women's shapes in ways that I do not need to know about. And we will leave it at that.  So, word-to the-wise, search carefully. When you type in "Dolls" you are fine.  But once you venture into "women's dolls" or "adult dolls"…you can see already, it is a slippery slope. (Update 2012: The BBF doll is good for someone who wants to work on a larger doll. The only issue is after about 1 1/2 seasons her joints get REALLY loose, loose to the point she is really hard to work on and pose for photographes.)
This BFC doll is the best bigger model we've found.
She doesn't have a baby doll shape and has 101 poses (according to her package).
4. Look carefully at the posture and the pose the doll is in. I love this new "basic Barbie" with the updated hair and eyes and poses.  But, sleeves are already tricky, and these arm positions are not adjustable. I think it may be a NIGHTMARE to get the clothes on, and get these models down the runway.  (That said, it may work well for certain fashions. And I will see if I can 'hire' one or two of them for special shows.)
5. There are good and bad points to the adjustable dolls. The good point is that you can REALLY express more attitude with adjustable dolls. If you can get them to be steady in different poses, it helps to reflect a certain tone in your outfit.  The bad point about adjustable dolls, is that the joints are not often well hidden, so there will be a bit of a 'bumpy' or choppy look to it sometimes. Even the barbies, who are minimally pose-able, have some super strange hip joints. And bikini's were almost out of the question.  (Even though you see lots of barbies in bikinis. To hand sew one, it is TRICKY.)
6. Price. The money is always a factor in this decision. We found dolls at Target for $4.89. Or even a little less.  Because this year,  I was hiring for a full runway show, I really wanted to keep the price down. You have a little bit more latitude if you are buying just one doll for the whole season. (but I will not presume for one second to know  your "latitude". I will wish you all great craft and abundant budgets for all your endeavors, craft or otherwise.)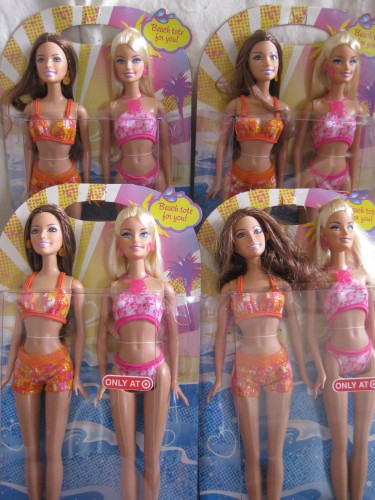 If you can find cheap Barbies you can have a whole fashion show worth of models like Susi
7. Lastly, there is just a preference issue. I am working out childhood deprivation issues so I went right for Barbie. Kat went for the Moxie doll last year, and in true Project Runway fashion, she liked the "model" and wanted to stick with her this season. Go, have a trip to Target, and have a great time!
We are so excited for the show to start.
Won't you join us? If you are going to be one of the designers for this season we'd love to see your model. Share a picture with us on the Project Project Runway Flickr group.
If you are not reading this post in a feed reader or at http://justcraftyenough.com then the site you are reading is illegally publishing copyrighted material. Contact us at justcraftyenough AT yahoo DOT COM. All patterns, text and photographs in this post are the original creations & property of the author unless otherwise noted.
© 2005 – 2011 Kathy Lewinski & Susan Cornish