A few people have asked me where they could shop for yarn when they visit Iceland, so I thought I'd share my tips in a post. These tips are for someone who will be staying in Reykjavík and getting around on foot. There are other yarn shops that can be accessed by car or bus, but I have not visited them.
Let's talk about the big one first, the Handknitting Association of Iceland, which is at Skólavörðustígur 19, 101 Reykjavík. It is a step or two down from street level which makes it easy to miss, just look for the logo.



Here you will find lots of Icelandic sweaters hand knit by the locals. (While I was there on the last trip, a lady was bringing in a bag of her work just as I was leaving.) They also have machine knit sweaters, hats, and mittens. But you are here for the yarn.


Go down to the lower level and to the back you will see the wall of Lopi. Here you will find all the yarns from Ístex, as well as patterns, knitting supplies, buttons and a few kits. The employees are happy to help you with a sweaters worth of yarn in the same dye lot and in picking out patterns in English. They had the best price on Lopi that I found, it was about half the cost of the same yarn in the US (this may vary with the exchange rate) and about a $1 cheaper than the same yarns in other stores in town.
Don't feel like knitting an Icelandic sweater yourself, but want something special? The Handknitting Association will have a custom sweater knit for you. They take at least two weeks, but you can order them through their website.
On this last trip, I noticed a lot more gift shops and clothing stores selling yarn as well.
Many of the Icewear stores have a wool shop. The Icewear Magasín, Austurstræti 5, 101 Reykjavík, had a especially large knitting section.


Most of the other Icewear stores we went into only had Lopi, but this one also carries yarns from other countries like Norway and knitting supplies. Plus the employees were knitting when I visited.
The Rammagerðin gift shops also carry yarn. They had a little bit of Lopi, mainly Léttlopi,  and were the only place I found the Einrúm yarn, a mix of Icelandic wool and Thai silk.


They also carried Einrúm patterns and some horn buttons. They have multiple locations, the bigger ones have more yarn than others.
The Nordic Stores also carry the Lopi yarns in their locations. If you are doing a tour of the Golden Circle, you can also find yarn in some of the gift shops, especially at Geysir. Even the National Museum has some yarn and pattern books, though all in Icelandic, in their gift shop.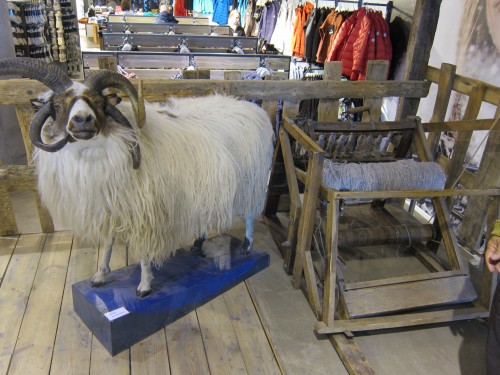 I really felt like yarn was for sale everywhere on this trip, even compared to a year ago. If you're just doing a layover in the airport on your way to Europe or the US, you'll even find it there.
If you are not reading this post in a feed reader or at http://justcraftyenough.com then the site you are reading is illegally publishing copyrighted material. Contact us at jcraftyenough AT gmail DOT COM. All patterns, text and photographs in this post are the original creations & property of the author unless otherwise noted.
© 2005 – 2017 Kathy Lewinski & Susan Cornish