We are moving right along on our garland and the touch of fall in the air here in Minneapolis certainly makes them feel a little more season appropriate. Really we could be just two months away from our first one inch snowfall here! So, on to mitten #7!
Ok guys, I struggled with this one, so you are going to get three versions to chose from.


Download 12 Days Mittens 7 version 1 . This is the first one I knit. I was never really happy with it and it bugged me. I didn't even finish the French knots. So, I went ahead and did a different version which was a little more like mitten #6.


Download 12 Days Mittens 7 version 2. I like this one much better and feel like it goes with my set better. Some people though, had mentioned they would be interested in a mitten with a single swan since the next four mittens will only have a single person on them. So, I came up with this which I did not take the time to knit up, but did provide you with a chart (only a portion of it is seen here).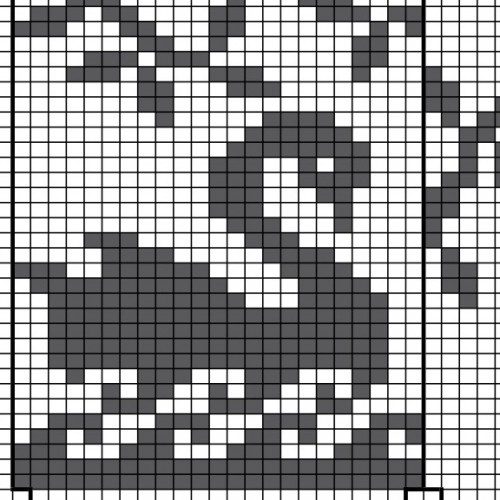 Download 12 Days Mittens 7 Version 3
Every version contains two charts as usual, one with the number on the back and one without. I'm really interested to see which one you all like best.
And finally, here is my set all together so far.

If you are not reading this post in a feed reader or at http://justcraftyenough.com then the site you are reading is illegally publishing copyrighted material. Contact us at jcraftyenough AT gmail DOT COM. All patterns, text and photographs in this post are the original creations & property of the author unless otherwise noted.
© 2005 – 2016 Kathy Lewinski & Susan Cornish