On my last trip to JoAnns, one of the ladies was shelving new fabrics. This is always exciting to see, but this day was particularly exciting to me because the new fabrics were for a line of "cosplay" costumes!!!! They are directly addressing the Anime and Comicon craze. I guess that some of these patterns and some of these fabrics were made available for the Halloween season last year. But I never saw them. This year they are expanding the line, and hitting the Comicon and convention circut dates too, not just Halloween.  Let's back up for a second. I teach 10-13 year olds that have exposed me to a whole new vocabulary. So if you do not have a pack of 11 year olds in your life, and you have not heard of these things let me just offer some background.
Anime:an·i·me
ˈanəˌmā/
noun
a style of Japanese film and television animation, typically aimed at adults as well as children.
Cosplay: cos·play
ˈkäzˌplā,ˈkäsˌplā/
noun
noun: cosplay
1.
the practice of dressing up as a character from a movie, book, or video game, especially one from the Japanese genres of manga and anime.
verb
verb: cosplay; 3rd person present: cosplays; gerund or present participle: cosplaying; past tense: cosplayed; past participle: cosplayed
1.
engage in cosplay.
Kat and I joke sometimes about the different lines of fabric on the shelves at JoAnn's. "what on EARTH would you make with "that" ?" (We live far apart, so these funny conversations are texts with pictures. We "virtual shop" together.) There are rows and rows of velvet burn-out and sheers, and sheers with petals or flowers attached… There is a line that would suit the whole "Frozen" empire. There are fabrics really only appropriate for bright bridesmaid dresses. And then there is the "performance" fabric. This is all the very glittery sparkly super-stretch in every direction. I really would only use this stuff in a costume. But recently my daughter has become much more serious about ice skating so I have looked at these fabrics in a much more focused light.
The new line of Cosplay fabrics is WAY beyond any of that. There is a line of sparkling fabric in a whole rainbow of colors that has the strength and texture of neoprene, but none of the volume, and it breathes. !!!! There are several selections that look like armor!!! With rivets!!!! You actually have to go touch this stuff to feel that it is not metal.
Here is a link to the company that is producing the fabric.
Cosplay Fabric
Here is a link to the line on JoAnn's site
Fabrics at JoAnns.
And to boot, there is a line of patterns that have come out that incorporate these new fabrics.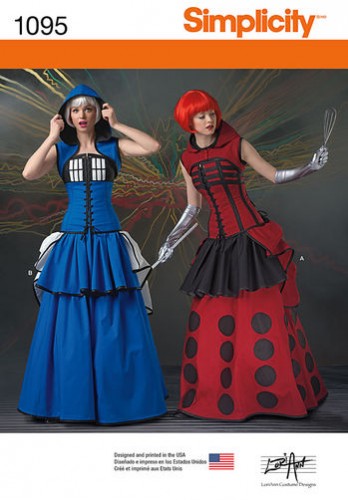 A Dr. Who dress!!!

And this pattern, where the one dress is renaissance, but on the right, done in an emerald metallic animal skin-print. It is some sort of fantastical rendition of the dress. Wowsa.
And of course there are some selections that speak directly to the Anime heros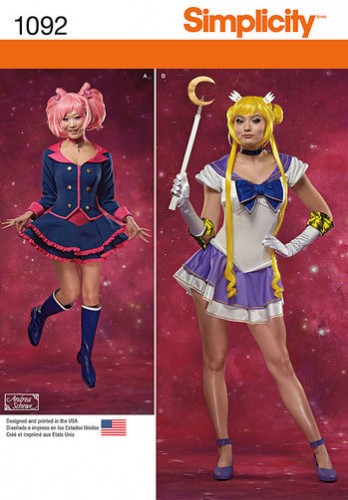 This one is popular with my girls. "Sailor Moon"! (Oh that made me chuckle. I know I am showing my age here. The girls swooned when they saw this pattern. They all said "Sailor Moon!" in a dreamy whisper. I looked at the picture again. And I thought to myself "moon" I see, there on the stick, but "sailor" Uhm, that is a sincere stretch find the nautical reference. But okay. Thank you for teaching me her name.)
As a teacher I want to set them up to do projects that are past the scope of what they could do at home. As a Mom I want to send home things that parents can appreciate. And, as a Mom I am trying to find things that will not make the "growing-up-fast" train go any faster. I am going to use all my power to hold them at 11 and not jump to 19. There is such a rich sweetness at 11 and 12. Can we all just grab onto that when we see it?
This fabric and pattern line inspired me to offer a new class: Costume Making. We will see how many of my darling Stitch Lab veterans want to sign up. I'll keep you posted.
If you are not reading this post in a feed reader or at http://justcraftyenough.com then the site you are reading is illegally publishing copyrighted material. Contact us at jcraftyenough AT gmail DOT COM. All patterns, text and photographs in this post are the original creations & property of the author unless otherwise noted.
© 2005 – 2016 Kathy Lewinski & Susan Cornish