Welcome to our little experiment, a Design Along to create your own custom fit, color work mittens. Let's get started!
The work you do this week is the most important step towards designing perfect fitting mittens in my opinion. If your numbers aren't correct, then your mittens won't be either. You'll need two sets of numbers to move forwards and getting those will be your homework for this week.
Just a note for those of you outside the US. I realize I have written everything talking about inches, because that is how I work. But you can of course work in centimeters. Just make sure to be consistent in all your measurements.
Hand Measurements:
You'll need six measurements to get a custom fit. I have created a worksheet that you shows you what you need to measure and gives you a place to write down your numbers. I've been making mittens for friends who live in the UK lately and by having them fill this out I was able to make mittens the fit perfectly without having access to their hands. The worksheet is in Word so you can type your numbers right into it and as a pdf for those who don't have Word.
Mitten Measurement Worksheet 1 in Word
Mitten Measurement Worksheet 1 PDF
If you have someone you will be making multiple pairs of mittens for, like yourself, you can just keep it on file.
When doing measurements A and F, make sure you measure the circumference of your hand for A and thumb for F. That makes sure the depth is included in the measurement.


If you are making mittens for yourself, you might find it easier to have someone help you take the measurements.
So, what do I do if I am making a mitten pattern without a hand to measure? For most things, like sweaters and socks, you can use the industry standards, but there aren't standards for mittens. I use the wonderful book The Knitter's Handy Book of Patterns by Ann Budd. It has schematics for children's to men's sizes. Of course, these will not be a custom fit, but it gives you a good guide.
Gauge:
I hear the collective groan out there. The great thing about doing mittens like this is that they will be designed for the gauge YOU knit. So, you need to knit up a gauge swatch in the yarn you will be using and with the needles you will be using. If you are doing color work, knit some color work into your swatch. It is also really best to knit your swatch in the round.
Why do you need to knit up a color work swatch? Because most of us knit tighter when doing color work. I am a perfect example, I know my gauge for color work with Knit Picks Palette is 10 stitches and 12 rows per inch on a size 1 needle, but without color work it is 9 stitches and 11 rows per inch. This can make a big difference in fit, even on just a mitten cuff it adds almost 3/4″ to the width and 1/4″ to the length . The pattern you do the swatch in does not need to be the pattern that will be on your finished mittens, just something simple like this is fine.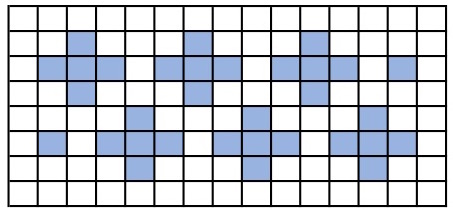 Why do a swatch in the round? When you knit flat you do purl rows and when you knit in the round you typically do just knits. This can also effect your gauge.
Now, we are focusing on color work mittens here, but if you were going to do mittens with a stitch pattern, you would want to knit a swatch in the stitch pattern.
Next Monday we will take these numbers and create our custom fit mitten template.
If you are not reading this post in a feed reader or at http://justcraftyenough.com then the site you are reading is illegally publishing copyrighted material. Contact us at jcraftyenough AT gmail DOT COM. All patterns, text and photographs in this post are the original creations & property of the author unless otherwise noted.
© 2005 – 2016 Kathy Lewinski & Susan Cornish