Here is a great sewing project for you or a gift to the dog lovers in your life.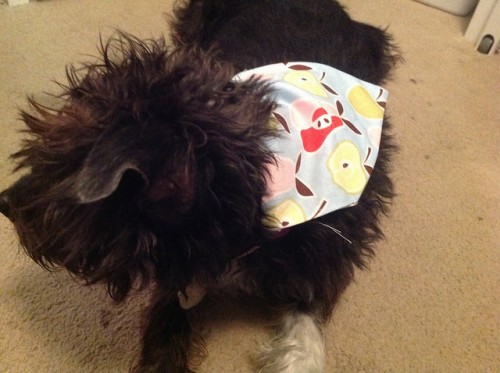 It's quick, easy, neat, washable, and uses scrap fabric! How great is that? Here is a bandana for your dog, but it does not need to be tied on, it fits right over the collar.
Dog Collar Bandana
two squares of fabric at least 9″ x 8″ each
thread
Pattern
Dog Collar Bandana Pattern
Here is a pattern to print out and use. The pattern shown is for a "medium" size dog. (20 – 30 lbs.) You could make it bigger for a bigger dog if you wanted to.
Cut the pattern out of two pieces of fabric. (They can be the same or contrasting.)
Sew the bottom (flat sides) together (right sides facing)
Iron the seam flat
Fold the straight side seams in and press down


sew along the first 3 inches, 1/8″ from the edge (Here, you are just finishing off the edge where the collar is going to go through.)


Fold the two sides, right sides together, and sew the 'triangle' parts together. (be sure not to sew the edges together all the way down, because you want to leave a hole for the collar to go through.)
Lastly, sew across the bottom of the triangle. This forms a tube area for the collar and the triangle rides off the collar as a decorative triangle.
Have fun. Make loads!
If you are not reading this post in a feed reader or at http://justcraftyenough.com then the site you are reading is illegally publishing copyrighted material. Contact us at jcraftyenough AT gmail DOT COM. All patterns, text and photographs in this post are the original creations & property of the author unless otherwise noted.
© 2005 – 2015 Kathy Lewinski & Susan Cornish