Looking for a last minute costume? I have got it for you! Rosie Riveter. I. It is not made out of cheap satin. It can be as figure flattering as you want it to be.


The pieces you will need to pull together:
utility style jump suit
spotted bandana
period correct hair
make-up
For the jumpsuit, I got one from the local independent auto parts store, Winchester Auto Parts. They have a rack in the front of used utility suits.  The best part was that they are asking $15.00 for them! I had plans to pull apart the suit at the waist and tailor it, but in the end, I decided against it. I took a belt and just hiked it all up and bloused it at the waist.


This ended up being a great decision because my friend borrowed the suit for a party and she did the same thing!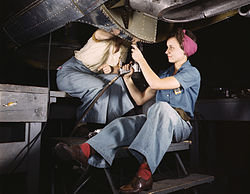 I looked up the original women that inspired the poster and they are wearing some HUGE suits, as if they took their husband's coveralls and just went to work. Their shoes are kind of old style oxford shoes, lace-up with a slight heal even. Bottom line, wear what ever shoes you want!
For the banana, of course you could use the traditional red paisley. But the iconic picture features a red spotted scarf, so I set out to make one. This was the only thing that required any "work". I bought a square of red spotted fabric and hemmed all the sides with a small rolled hem.


To take the look to the next level, the hair and make-up need to be great. For the hair I watched quite a few You Tube tutorials. They were very helpful to me, but to add a little context, I have naturally curly hair and on an average day I spend about 30 – 60 seconds "fixing" my hair. So, I found the tutorials very helpful. I giggled when they said "This one is really fast! you can be ready to go in 10 minutes!"
I looked at loads of pictures and applied make-up in the way that I saw. I feel like it was such a change for me that it was super dramatic and pretty successful. (on an average day I do not have on red lipstick and dramatic eye liner.)

This was a fun day. I highly recommend this costume for ease and comfort. Happy Halloween.
If you are not reading this post in a feed reader or at http://justcraftyenough.com then the site you are reading is illegally publishing copyrighted material. Contact us at jcraftyenough AT gmail DOT COM. All patterns, text and photographs in this post are the original creations & property of the author unless otherwise noted.
© 2005 – 2014 Kathy Lewinski & Susan Cornish