I'm thrilled so many people have decided to knit along on this project. It's fun to see everyone's color choices and the finished mittens starting to roll in the Ravelry group. I wanted to share one with you by Ravelry user Chumily.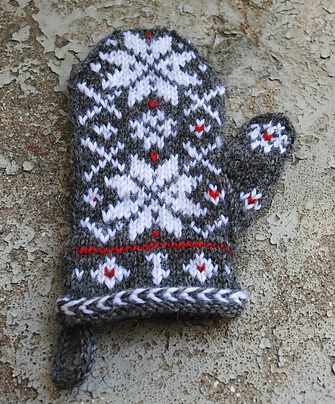 She added a little more color detail throughout Mitten #1 using duplicate stitch. It looks so great. Duplicate stitch is a good way to add those small pops of color without having to actually strand a third color. She also made the great point that it is fun to knit something you don't need to make a match for!
Ok, on to this week's mitten. Red hearts just say Christmas to this Swedish girl…


Download the Advent Calendar Mitten 2 Chart (Update: There was a small error in the chart which was fixed on 6/23/15. If you downloaded the chart before that day, please do so again.) and the Mitten Advent Calendar Pattern .(Remember we will be using the same written pattern for all 24 mittens, so you only need to download this if you haven't already.)
If you missed it here is Mitten #1.
If you are not reading this post in a feed reader or at http://justcraftyenough.com then the site you are reading is illegally publishing copyrighted material. Contact us at jcraftyenough AT gmail DOT COM. All patterns, text and photographs in this post are the original creations & property of the author unless otherwise noted.
© 2005 – 2015 Kathy Lewinski & Susan Cornish