A week ago the weather was beautiful, so my husband and I decided to take a drive. We ended up at a place I've been wanting to visit for awhile, the Faribault Woolen Mills.


Faribault Mills have been making wool blankets and other wool items since 1865. They've made them for troops, for airlines and now for high end shops. The mill closed in 2009, but was reopened in 2011 and now has sales at about 10 million USD a year. You are starting to see Fairbault wool items everywhere now, Target did a line last Christmas, Caribou Coffee carried cozies and small items, Duluth Pack makes amazing bags with it, other high end designers are turning the blankets into boots and coats. Even Jack Daniels uses their wool to filter the whiskey!


I would have really liked to tour the mill, but they only schedule tours on Thursdays, so that will have to wait for another day. Really, I just wanted to browse the Mill Store. The store is full of beautiful blankets, hats, pillows and scarves. The exciting thing I found was the shelves of seconds and, even better, remnants!
I ended up buying this seconds scarf. All the seconds are clearly marked with what is wrong with them. For this one the ticking was off. That's what I liked about it!


Remnants sell for $13 a pound. This is for beautiful 100% American wool. I bought two pieces, a lovely soft grey which will become throw pillows most likely and grey with red, blue and off-white in it, that will become a bag or two if I'm lucky.


Now I am at the planning stages. I think I want to make a tote or weekend bag and a smaller crossbody or messenger bag. I've been looking around to get some ideas.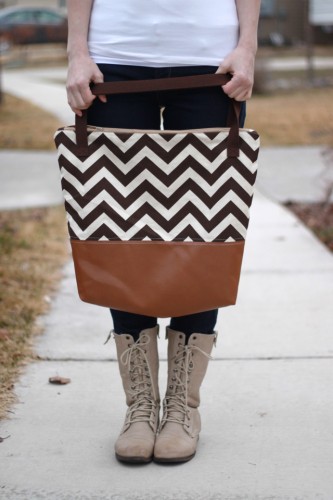 This leather bottom tote by Sew Kate Sew is a good start. I really like the idea of putting leather on the bottom especially with this light fabric. I think I would try to make the bottom stiffer and also add an outside pocket of some sort.


The weekender bag from Weekend Designer is also a good starting point. It has a lot more bit and bobs to the construction than I think I want, but just having the leather on the bottom is interesting.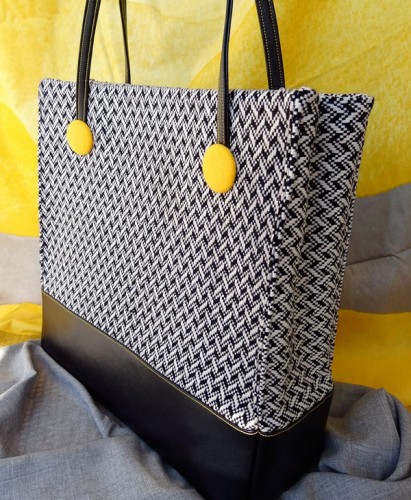 The fall handbag by Twinkle and Twine is smaller and more constructed than I want, but I really like her instructions for making the leather straps.
I think I have some good inspirations here to start designing my own bag. Now to figure out what color leather (or pleather) to use on it, I'd love to do a blue or red, and find a nice lining.
If you are not reading this post in a feed reader or at http://justcraftyenough.com then the site you are reading is illegally publishing copyrighted material. Contact us at jcraftyenough AT gmail DOT COM. All patterns, text and photographs in this post are the original creations & property of the author unless otherwise noted.
© 2005 – 2015 Kathy Lewinski & Susan Cornish